Didier Sanson, Director of the A350 XWB programme at Thales, answers our questions.
What is the purpose of these tests and what is the involvement of Thales?
The A380 MSN001 (flight test A380) has been equipped with the Rolls-Royce engine designed for the A350 XWB in order to conduct flight tests before the A350 XWB's maiden flight. This will allow Airbus to accumulate full-scale flight test hours well before the A350 XWB's first flight. Thales is involved in these tests by providing the aircraft with two A350 XWB CPIOMs (Core Processing Input Output Modules) and an A350 XWB common Remote Data Concentrator (cRDC, from the A350 XWB integrated modular avionics platform) that hosts the software applications and monitors the new engine's interfaces. These flight tests are also a perfect opportunity to present our products in real conditions and accumulate operational flight hours in a representative environment. Didier Sanson: "Our ADIRU worked very well, supporting its excellent previous performances" Thales and Airbus have also used these A380 flight tests as an opportunity to introduce Thales's ADIRU (Air Data & Inertial Reference Unit) as a "passenger". The A350 XWB ADIRU is installed on board the A380 on a pallet and is connected to sensors and flight test measurement system to record the performance of our ADIRU in real time and compare them to the performance of Honeywell's A380 ADIRU. During the first flights, our ADIRU worked very well, supporting its excellent performance during truck tests in Valence and Thales flight tests conducted in late 2010 on a Dutch NRL (National Research Laboratory) plane.
What other tests are currently underway on Thales equipment?
Thales has supplied all the prototypes to equip Airbus's functional test rigs (navigation, IMA, cockpit, etc.), the two simulators, as well as what is known in aviation jargon as, the "Iron Bird", which is a test bed that represents all electrical wiring, hydraulic systems and other systems (air, fuel, landing gear, etc.). Since mid 2011, Airbus has been intensively testing all of its equipment in order to check the performance of the equipment and software they have been supplied with in preparation for the power-on of the first A350 XWB aircraft. A Thales team on the Toulouse site is dedicated to supporting Airbus test teams throughout these various campaigns as well as assisting Airbus's test teams in support, in the implementation of our equipment.
When was the first flight and how was the Thales team prepared?
The first flight took place on the 18th February this year. For this modified A380 (Flight Test Bed), the Thales support team followed Airbus' teams during the installation and startup of all equipment delivered by Thales. The installation and implementation of our equipment went very smoothly; no major technical faults were found and there was no need for our support test teams to take any special action. This team will continue to monitor the performance of our equipment during the A380 flight tests and will provide technical assistance at the request of one of the Airbus teams. To summarise, Thales is now ready and hard at work monitoring and assisting Airbus in the entire series of test flights!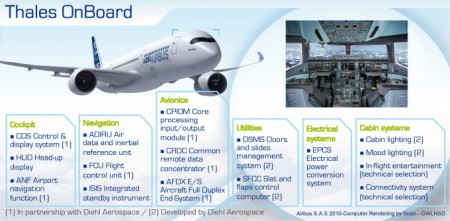 Photos credit: Airbus S.A.S 2010-Computer Rendering by fixion - GWLNSD

"Our ADIRU worked very well, supporting its excellent previous performances "