This annual initiative measures the level of satisfaction of airlines and Airbus against tier one suppliers such as Thales, each of which is assessed on the basis of a wide range of customer support criteria.
The latest ranking, which measured performance for 2012, was released in April 2013 during the Aircraft Interiors exhibition in Hamburg, Germany.
The yearly Airbus ranking is one of the most important satisfaction measures for Thales in the IFEC domain. "We are very proud to be among the best suppliers and will do our maximum to keep on achieving outstanding results in the future," states Bruno Guinamand, Vice President General Manager, EuMEA Region at Thales.
He adds that "one of the main outcomes in the Airbus ranking for 2012 is that customers were satisfied with improvements conducted by Thales in the domains of Service and Cost. We will do further efforts in the area of product reliability in 2013 as requested by customers as we are keen on providing excellence for both support and product offering."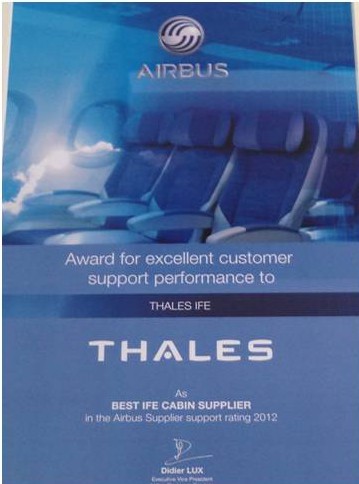 Photo credit: Copyright Airbus

"We are very proud to be among the best suppliers "