Thales is proud to have contributed to this double achievement through the supply of cutting-edge in-flight entertainment systems which were highlighted by Abdulrahman Al-Busaidy, the Chief Operating Officer of Oman Air, during his acceptance speech: "Each of the new aircraft features […] the very latest inflight entertainment technology".
Indeed, Oman Air's most recent aircraft comprise new Thales AVANT in-seat audio video on demand (AVOD) systems, accessed via a user-friendly handset and offering an expanded range of movies, music, games and information. Furthermore, the large 17-inch/43-cm personal monitors can also be used to screen the content of laptops or personal devices. In addition, Oman Air's ALNA connectivity system enables live in-seat internet connections via the onboard wireless network, as well as mobile (GSM) telephone usage.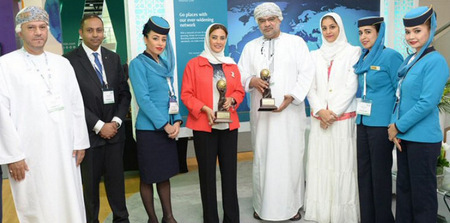 Congratulations to Oman Air!
Pictures: Oman Air