A UNIQUE NAVIGATION AND TACTICAL GRADE DIGITAL MEMS ACCELEROMETER TO SIMPLIFY YOUR DESIGN AND REDUCE SIZE AND COSTS OF YOUR PRODUCT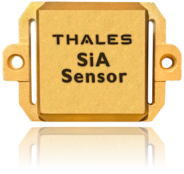 A disruptive offer to simplify your design without any compromise on performance and with a complete portfolio covering all your needs.
Based on decades' expertise in accelerometer and MEMS technology, Thales has developed a new, fully digital, very high-performance accelerometer  to address Navigation and Tactical-range performances, using silicon MEMS technology associated with the vibrating beam measurement principle and advanced signal processing technology.
Now, Thales is ready to offer the digital navigation grade MEMS accelerometer with demonstrated outstanding performance, cumulating typically very high input range up to 100 g, below 50 µg bias accuracy and less than 10 ppm scale factor accuracy.
Technical caracteristics are:
Digital interface
Size, weight and power gain
Excellent long-term stability
Large portfolio with same sensor size
Internal continuous Built-In-Test
Key advantages are:
No analogic tuning, simplified integration with a digital interface
Designed and manufactured in France
Robust supply chain for long-term commitment 100% mastered by Thales
Support service from Thales Authority
Support during certification process with airworthiness authorities
Thales MEMS accelerometer, compatible with the highest certified aerospace applications under DO-254 standards, now complements the current TopAxyz product line covering all applications in aerospace, land and naval domains.
Please fill out this form to download the datasheet: