Incremental IMA is the blueprint for the future
Jan 10. 2011
Marc Fumey, Commercial Avionics Architect Senior Expert at Thales, explains the unique benefits of Thales's Integrated Modular Avionics (IMA) solution, which is based on incremental certification. While minimizing development and maintenance costs, this innovative solution also ensures the highest levels of safety.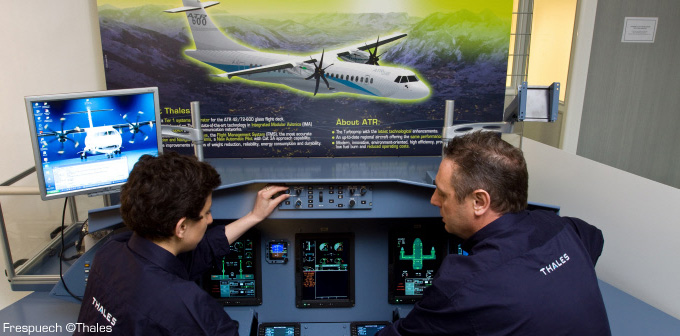 What is the Thales IMA solution?
Generally, IMA aims to reduce the number and types of equipment onboard an aircraft through a large-scale generic integration capability. By replacing dedicated equipment (LRU, Line Replaceable Units) by generic modules (LRM, Line Replaceable Modules), it allows applications to share common resources on a common platform. The net result is that aircraft weight is reduced and airliners make considerable cost and maintenance savings.
Back in the 1990s, the first IMA encountered integration problems because applications on the same platform were too interdependent: dependencies induced by resource sharing lead to potential technical and certification issues. Airbus and Thales answered this problem by defining and developing the world's first IMA solution providing incremental certification.
What is incremental certification?
It means Thales's IMA is capable of managing applications integrated on a common IMA platform as if they were alone on dedicated modules. In other words, it offers the benefits of traditional IMA without the problems of co-dependence between applications: interoperability without any unwanted interdependence.
What are the benefits of such a solution?
With Thales's solution, integrated functions can be presented for certification independently. When upgrading one application, airframers do not need to re-certify other systems on the same platform.
Which airlines use this solution?
Thales first developed its Incremental IMA modules for the Airbus A380. Since installation in 2006, Airbus has led numerous evolutions, either new applications or upgrades, and there has never been a problem with IMA resource sharing – which is proof of its excellent incremental performance.
We are currently developing an IMA for the A350 XWB, and we're also in the final stages of certification on the Sukhoi SSJ-100 and the ATR-600.  As well as improving the solution in terms of performances, we've made it more user-friendly, easier to install, and more cost-effective.
How will the solution evolve in the future?
At the moment, the applications supported by IMA are cockpit critical functions and utility functions. In the future, the incremental IMA approach could be extended to other processing domains, to include time critical functions, open world functions, or even passenger applications.
Thales is currently working with key airframers on a number of major IMA research programmes that are set to establish an exciting future for IMA solutions.
Please contact us if you would like to receive a copy of the IMA White Paper.