User feedback on Thales's innovative mobile application and web portal for Search & Rescue missions
Sep 22. 2021 Thales has introduced a new mobile application and web portal solution that is designed to deliver optimal fleet management and interoperable communication capabilities for Search & Rescue missions. The system has been successfully trialled by military users within a helicopter squadron in France, and we caught up with one of those users to get the full story.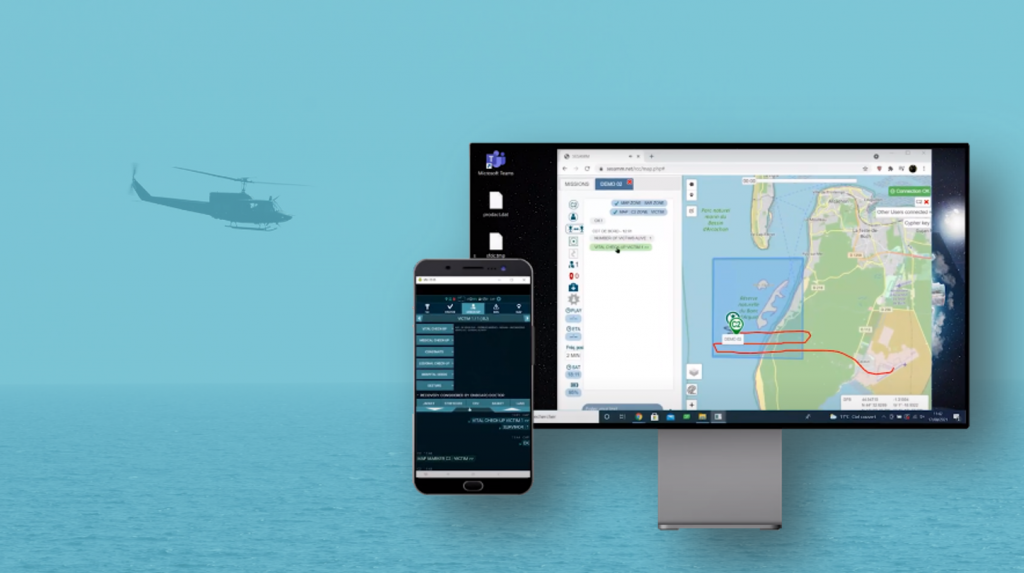 How did you hear about the product and how did you use it?
Earlier this year a helicopter squadron who operate Search & Rescue missions showed us the basic product and we had the opportunity to use it as part of a task force assigned to overseas operations. The objective was to conduct an initial assessment and to conceive a bespoke interface aligned with our squadron's requirements. Those initial trials over a two-month period in early 2021 proved conclusive.
Does the product currently meet your initial expectations?
For a number of years we have been seeking to develop a long-distance link system based on an IRIDIUM-type satellite capability to transmit secure BFT (Blue Force Tracking) and chat links. A previous product was developed mainly in-house but proved unsatisfactory and was eventually abandoned.
What the Thales solution provides is a response to this requirement by ensuring the permanent and secure sharing of helicopter positions and the ability to transmit messages to them at any time. This capability significantly increases the efficiency of the command chain and the safety of operators. The ability to find a fall-back solution is possible without the need for an additional air relay (plane or drone) and the tracking of an isolated aircraft increases the speed of intervention in case of problem.
How would you rate the system's performance?
Technical performance is of a high level. Latency issues that had been pinpointed during the first trials were improved during ground tests conducted subsequent to software updates. Some connectivity problems have also been solved now. The system needs to be extremely robust to be able to function perfectly in extreme operational environments. For national security reasons our focus now is really to keep the information within our military organisation and then to hoist the solution in our premises on a dedicated server.
What are the system's key assets?
It is a combination of many attractive features and functions, such as customization to the user's mission, satellite communications capabilities, message reception time, interoperability, the associated support service, and the ability to install the system on board a helicopter very quickly (in under five minutes). However, the real advantage is the possibility to provide a better appreciation of operations in progress with a nomadic and easy-to-implement system. The gains in terms of security and efficiency are significant.
Would you recommend the product to other military organizations?
Yes, if only for the enhanced safety provided by the permanent sharing of a reliable position and an efficient bilateral link.
How about other types of customers, such as civilian users?
Yes, the interest for an operator to be able to contact their helicopters and to know their position whatever the distance is a real boost in terms of safety and security (for airborne work in inhospitable areas, transport to oil rigs, etc.). It could even be adapted and transferred to other platforms such as land vehicles (operated by NGOs, for example).