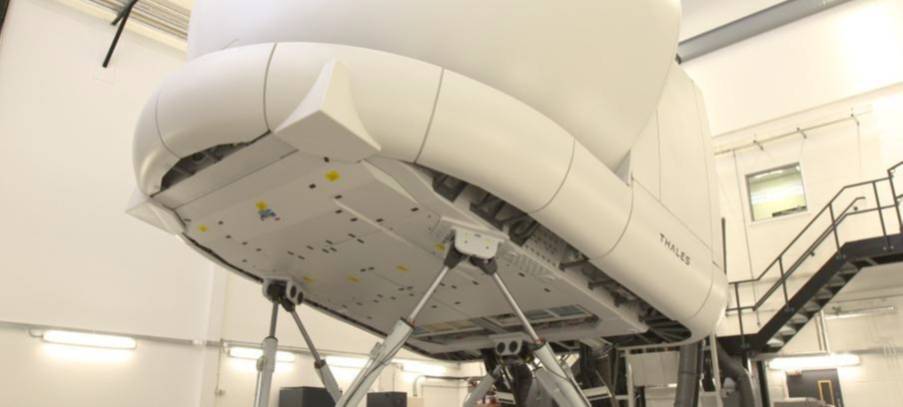 Airbus Defence and Space has awarded Thales a multi-million pound contract to supply the Royal Air Force with a second full-flight simulator for the Airbus A400M military transport aircraft.
''It is an important milestone. The United Kingdom is the first to buy two flight simulators,'' Sector General Manager A400M Peter Politiek says.
This contract sees Thales taking a step forward in the development of offering, adding another element to its current range. The A400M simulator offers a full flight simulator and flat panel simulators but also includes a complete training service. ''Thales offers a school building with flight simulators in it, teaching the instructors how to use the different simulators. Thales brings a full experience and extensive knowledge in terms of training, contributing more than just a product,'' Peter Politiek says.
The A400M simulator enables realistic training, allowing the number of actual aircraft flight training hours to be reduced. ''It is cost efficient as it allows you to use the aircraft less for training and solely  for operational use''
Developed in line with the aircraft, the simulator's technical specifications are parallel.
Currently level C standard, Thales aims the full flight simulator to be qualified to level D standard (the higher level of qualification) by the end of the year. This certification is another step forward in Thales desire to open its simulator to new markets.
Both Full Flight Simulators will help train aircrews at the RAF Brize Norton training school in Oxfordshire. ''Now we are working to connect the two cockpits to allow joint exercises,'' Peter Politiek says.
A400M Training Services Ltd (ATSL), a joint venture company formed by Thales and Airbus Defence and Space, manages the support services and maintenance.
What are the specifities of the simulator?
Full flight simulator – training fully perform ESR level D: training fully perform into the simulator until the first operational flight. The first time you fly the aircraft you can fly as a co-pilot. The cockpit has been specifically designed at the same time the aircraft was developed.
For which benefits?
Realistic training which allows the number hours of training in the actual aircraft to be reduced to a minimum. Therefore it is a cost efficient way of training because it allows you to use the aircraft less for training so you can fully use it for operational use.
Train scenario you wouldn't do in an aircraft like failure conditions which you wouldn't try in an aircraft but you can do in a simulator. So it allows a wide training for all kind of aspects that you can simulate in the simulator.
Key steps of development?
Simulator is developed in line with aircraft. Simulator is at level C standard and we aim to upgrade to D standard which the final standard which allows all training to be done in the simulator, that is planned for the end of the year. In the coming 3 years, it will have a series of SOC updates to bring additional military to the aircraft nd the simulator will follow them.
Next step?
D standard and a series of 5 SOC updates which bring us to 2018.
Future innovations?
Not that many new innovations but for us the most of the future is to get the full flight simulator ready for the export market. At the moment, the simulator has been done for the nations who have founded the aircraft but now we want to sell it to other nations. So we are looking how we can produce this simulator more cost efficient so it is about reducing the cost base.
At the moment we are offering two types of simulator. Full flight simulator and the flat panel trainers which are more procedural trainers. (Flat panel trainers: 7.70min)
Thales offering full range
A400M simulator offers full flight simulator and flat panel simulators. On other aircraft we make computers base training. Also what we are offering is a complete training service where we offer a school building with flight simulators in it, teaching the instructors and the people how to fly. It is not only an equipment but a full service. For the UK Thales offers a training service. We have contacted to deliver our second full flight simulator and Thales offers a training school to the MoD to learn how to fly the aircraft.
UK: school building with instructors with all specific trainers in it.
Thales kno-how in flight simulator?
Lot of experience in full flight in aircraft, helicopter and flight jets. We are offering a training solutions not only a product.