Bringing consumer technology to IFE
Jul 05. 2011
Touch Passenger Media Unit (TouchPMU) is a breakthrough handheld device that uses the AndroidTM operating system to offer a range of in-flight entertainment and Connectivity (IFEC) applications and services. Due to enter service in 2012, the device has already been ordered by a number of airlines.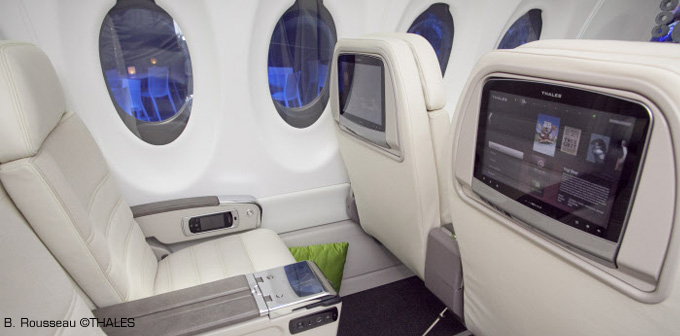 The TouchPMU can be used both as a traditional remote control for the seatback display and as an independent media device. As such, passengers can use it to select films, adjust volume or call a flight attendant; alternatively, they can use the device's 3.8" capacitive multi-touch display to directly play games, consult the in-flight menu, or chat with fellow passengers.
"The dual functionality of the TouchPMU allows passengers to multi-task – just like we do in daily life", explains Stuart Dunleavy, VP Marketing & Customer Proposition at Thales.
Consumer technologies
TouchPMU combines several mature product technologies to create a robust and innovative product. Notably, it is one of the first devices on the IFEC market to use the Android operating system. Furthermore, its touchscreen interface helps bring the IFEC experience in line with consumer smartphones.
"At Thales, we are constantly striving to bring new consumer technologies into the aircraft environment," says Dunleavy. "It means passengers can enjoy an experience that is familiar to them from the ground".
Opening up with Android
By running on Android, TouchPMU benefits from the wide range of existing Android applications available via the Google Marketplace. Instead of being restricted to developing its own apps, Thales can now quickly adapt best-in-class developments from the consumer environment to its IFEC platform. "For example", says Dunleavy, "we adapted the extremely popular game Angry Birds in a matter of just weeks."
Other innovations
TouchPMU also offers a touchscreen controller rather than a hard button controller, offering intuitive navigation and a more ergonomic design. Furthermore, several gigabytes of solid state memory have been integrated into the seat itself. As such, content is no longer streamed to individual seats; rather, it is available directly from the seat itself, offering passenger a faster, more user friendly experience and increased reliability.
Future developments
For Thales, TouchPMU sets the precedent for future developments. Work is currently under way on TopSeries AVANTTM, a new IFEC platform that will run on Android and include up to 256GB of local storage in each seat. For both passengers and airlines, that will mean even greater performance and increased reliability.
Industry awards
In less than 9 months, the TouchPMU won two industry awards. In October 2010, the APEX Avion Award for Best in Technology and in April 2011, the Crystal Cabin Judges Commendation Award.