Progress report on the development of the first 4-axis Autopilot for light helicopters
Nov 24. 2021 In recent months, Thales and StandardAero have installed and tested a brand new system on board an AS350 that has undergone test flights in Langley, West Canada. This 4-axis retrofit solution is designed to enable light helicopters to enjoy the same hands-off autopilot capabilities as larger craft. The system now has a name: StableLight.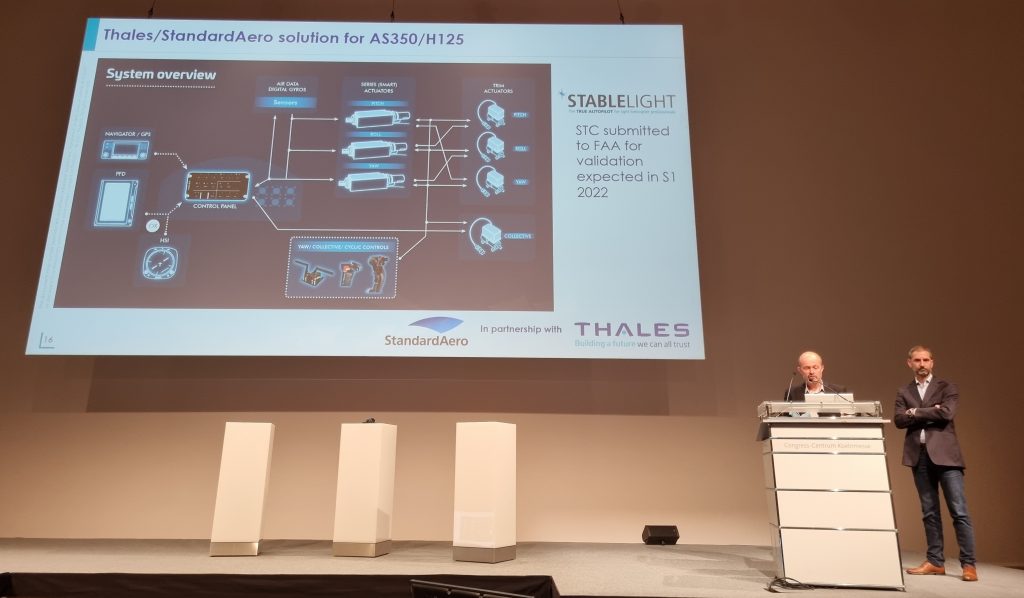 On November 17th 2021, Thales shared its experience in developing this real autopilot for light helicopters at the European Rotors event held in Cologne, Germany. Nicolas Couder, Thales Experimental Test Pilot, together with Olivier Lemoine, Chief Architect Helicopter Avionics, looked back over the recent experimentation.
What they underlined is that, today, most light helicopters do not have an Autopilot, and none of them have a 4-axis Autopilot. The majority of helicopter accidents and serious incidents involve light helicopters. The main key risk area is the aircraft upset (loss of control) that a 4-axis Autopilot can prevent, or at least help to mitigate.

View the presentation here:

What can a 4-axis Autopilot deliver to improve safety? Nicolas Couder says "It stabilizes the helicopter, it allows fully hands-off flying, it manages upper modes and provides envelop protection and dedicated safety features". In short, it significantly reduces pilot workload and improves handling qualities: it makes the aircraft better and safer!
Certification is ongoing at EASA and expected in 2022. Stay tuned!