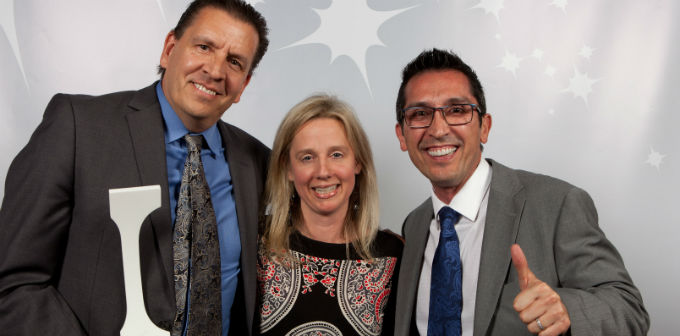 Thales received the "Passenger Comfort Systems" trophy for its Eye Tracking and Gesture Control system. This award marks a seminal moment in the Inflight Entertainment and Connectivity industry: Eye Tracking and Gesture Control have been heralded an important new technological development as the In-Flight Entertainment market draws ever nearer consumer technologies and Thales has time and again demonstrated their prime position as an innovative developer in this field.
The features contained in the system are enhancements to the passenger user experience in a far reach seat configuration (or pod seat) as typically found in premium cabins. It utilises eye tracking and gesture control technologies to control the IFEC system without the use of remote controls. The combination of eye tracking and hand gesture technologies gives the passengers a very user friendly and natural way to engage with their in-flight entertainment.
The award was presented to Alan Pellegrini, Thales Vice President and Chief Executive of Thales USA and Thales In-flight Entertainment & Connectivity. He comments: "This is truly an honour. Our technical teams focused on product innovation bring forward some really keen ideas that in some cases are more than just show pieces but viable commercial products that evolve the industry. The Crystal Cabin Awards is a great initiative that really allows innovators to stand out and feel proud, and we thank the organisation for award."
The other winners on the night were Boeing, Diehl Aircabin, Dornier Technologie Systems, HAW Hamburg, Meru, Zodiac Aerospace.
Full roll of honour:
Industrial Design & Visionary Concepts category: Zodiac Aerospace for its "ISIS" (Innovative Space Interior System) product
Premium Class & VIP category: Dornier Technologie Systems for the Glass PCU capacitive touchscreen
Passenger Comfort Hardware category: MERU for the MERU TravelChair
Passenger Comfort Systems category: Thales for its Eye Tracking and Gesture Control system
Greener Cabin, Health, Safety & Environment category: Boeing for the Insulated Galley Cart
Material & Components category: Diehl Aircabin for the "iPanel" product
University category: HAW Hamburg (Hamburg University of Applied Sciences) for the "Big Lavatory Concept" (BigLavC)
Pictured above (copyright Crystal Cabin Awards): Brett Bleacher (left) and Christopher Mondragon (right) from Thales. Presenter: Judging Panel member Melissa Raudebaugh (Delta Air Lines).