First Thales AVANT in Asia flies on newest JAL B787
Dec 03. 2014
Thales announces that Japan Airlines' new B787-8, which entered into revenue service on December 1, is equipped with the latest generation, Android based AVANT in-flight entertainment system. Japan Airlines (JAL) becomes the first carrier in Asia to fly Thales's AVANT system on a B787 aircraft.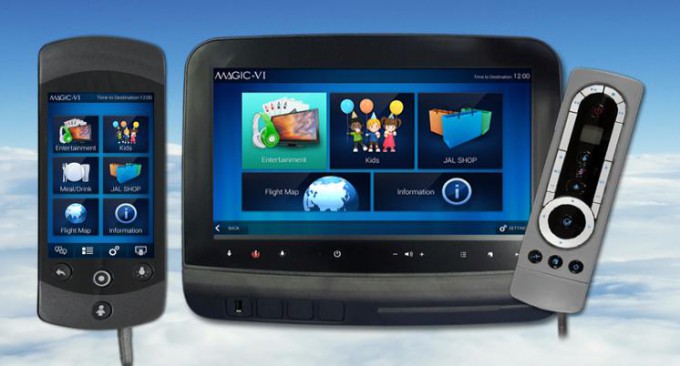 AVANT is a popular system on newest generation aircraft and has been selected by 15 worldwide airlines. Today, more than 120 aircraft are flying with AVANT with at least one aircraft delivery nearly every week. Total orders are approaching 500 aircraft.    
The JAL Sky Suite passenger experience on the B787 includes a wide selection of on-demand entertainment, 3D Maps, JAL Shop, and Sky Manga; a world first for the cabin experience. Sky Manga is a service that allows passengers to enjoy digital manga on the Thales system. Available in all classes on international routes, passengers will have access to 90 Japanese and 30 English titles.  
Business class passengers will enjoy their personal entertainment on 23" high definition displays and on the award winning Touch Passenger Media Unit. This unique unit, which resembles a smartphone, can be used as a control device or second screen, bringing more interactivity and newer Android applications to passengers than ever before.
Passengers in premium economy and economy seats will access their entertainment through large 12 and 10 inch displays offering a generous viewing experience. At every seat, passengers will find AC power and USB port accommodations for their mobile devices. 
Japan Airlines have 15 line-fit B787 aircraft on order, all featuring AVANT. The airline and Thales have a developed a close partnership over the years. In addition to the B787, Thales systems are flying on Japan Airlines' B767 and B777 aircraft, on both domestic and international routes.
"Our relationship with Japan Airlines spans many years and we have developed mutual respect and trust for one another. The launch of this new aircraft is a great milestone for all of us and we are confident that the quality, reliability and advanced technology of our systems will help Japan Airlines ensure their passengers continue to be satisfied by this airline's exceptional level of service," said Dominique Giannoni, Thales vice president and CEO of In-flight Entertainment and Connectivity activities.
New functionalities Japan Airlines will introduce include:
Audio and Video on Demand at every seat
3D Map applications for flight information
Multi-Language
A wide variety of games
JAL Shop
Sky Manga
Meal ordering
Key points
Japan Airlines becomes launch customer for AVANT on the B787 in Asia.
Japan Airlines is the world's first airline to offer digital manga supported by the Thales AVANT.
AVANT is now operational on 120 aircraft with total orders approaching 500 aircraft covering B737, B777, B777, A321, A330, A350 and A380.
Photo credit: © : Japan Airlines
es»