FlytLive, new tailor-made connectivity services over the Americas and the Atlantic Ocean
Sep 13. 2016
Thales announced it has teamed with SES to deliver FlytLIVE®, the most efficient Ka-band High-Throughput Satellite (HTS) connectivity services over the Americas and the Atlantic Ocean. Onboard took the opportunity to meet with Dominique Giannoni, CEO of Thales InFlyt Experience, to find out more about this agreement.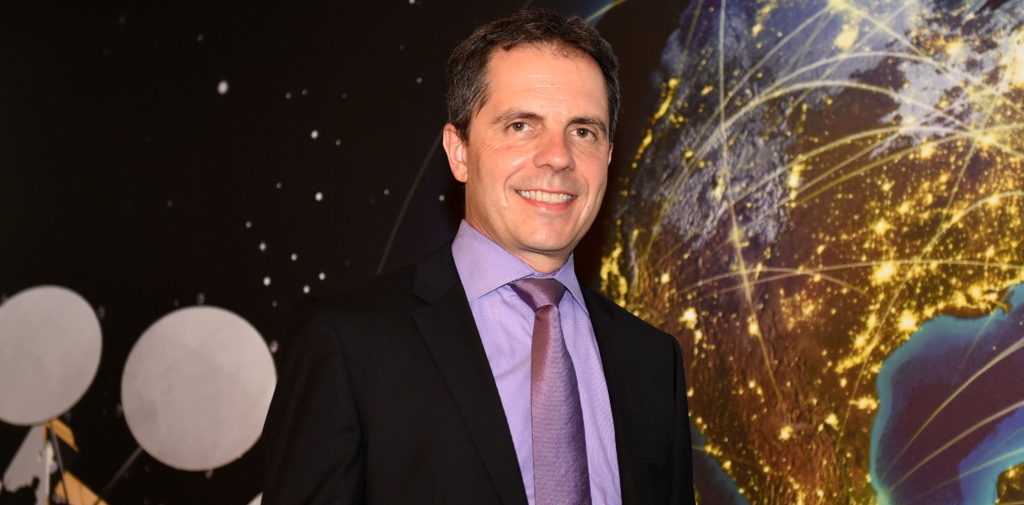 Can you tell us more about how the connectivity solution will be delivered?

Our agreement with SES is an important milestone for the airline industry and our companies. It will bring our airline customers an ultra-high speed Ka-HTS connectivity solution, FlytLIVE®. FlytLIVE will utilize a satellite network maintained by SES and optimized for the commercial aviation market servicing 100% of the Americas, the Caribbean and the Atlantic Ocean. FlytLIVE by Thales will enable passengers to enjoy an unmatched experience with full Internet services, live television, content streaming and social media to enable an immersive and engaging experience in the air.

Airlines will take advantage of Thales's full end-to-end solutions including products such as the modular antenna and multi-frequency radome, in-cabin Wi-Fi and portal platform. The offering also provides bandwidth and session management, content delivery, operational support tools, line maintenance and turnkey service and support with high Service Level Agreements.

The network will use a series of three satellites, two of which are in-orbit today. The initial satellite network will commence testing later this year and will be ready for commercial operations by mid-2017.

SES-17, the third satellite in the network, will be launched in 2020 providing new Ka-HTS bandwidth over this region. The satellite architecture is based on Thales Alenia Space's all-electric version of the Spacebus NEO platform and will be the highest performing satellite in the global connectivity market specifically configured for commercial aviation and mobility services.

Why is FlytLIVE unique?

With over 2,500 aircraft equipped with our IFE and connectivity solutions, FlytLive complements our broad portfolio of services and will enable us to offer airline customers a premium connected inflight experience.

Our FlytLIVE solution leverages Thales's expertise in aerospace, cybersecurity, aviation and connected inflight entertainment combined with SES' leadership as a satellite operator to bring the best for our airline customers. No other provider has the people, airline insight and capability gained from such extensive experience.

SES-17 has been specifically designed by Thales and SES to meet the needs of the fast moving aviation and mobility market, with close to 200 multi-sized spot beams for more flexible allocation of capacity over high traffic airline routes, and field of view beams to enable the most efficient delivery of internet, live broadcast television and real time content delivery. Ka-HTS bandwidth is simply the most cost-effective solution to offer quality performance and efficient broadband connectivity for aviation.

How many aircraft can the satellite network support?

Thales carefully analyzed the commercial aviation routes, how aircraft traffic is distributed by time of day and even by season. We looked at where airline traffic is growing and the forecasted trends up to 2030. We also studied passenger internet usage on our fleet of more than 500 Ka-band connected aircraft and its growth year-over-year. Thales and SES incorporated all these current and future requirements into the development of the satellite architecture and network design, making the solution future-proof.

What does this agreement mean for airline customers?

In this business, airlines need partners that are ready to significantly invest in future proof solutions, and are financially solid to sustain the recurring investments needed to deliver a service continually at the forefront of the industry. Airlines also need partners that are complementary, doing what they are each best at. This is what the industry is getting through this agreement, Thales leading the airline relationships and SES providing the satellite and network management services.

As a leading satellite, aviation and connected inflight entertainment company, Thales fully understands the requirements of our aviation customers and has designed a satellite-based network that delivers the best connectivity solution. Thales and SES specifically developed the network and satellite architecture to meet these unique connectivity requirements resulting in better services, more efficient operations and cost savings to our customers.

Have any airlines shown interest in FlytLIVE?

Throughout our presentations, airline customers across the Americas have shown great interest in our next generation Ka-band HTS service offering. To date, we have held advanced discussions with several major airlines in North and South America for fleet-wide deployments.

How does this agreement fit into your portfolio?

The agreement with SES is over 100% of the Americas and the Atlantic Ocean. We remain committed to delivering the best connectivity services to our airlines customers wherever they are. We are fully committed to our GX partnership with Inmarsat to provide global coverage, specifically for long-range aircraft.

Do you have any last words you'd like to add?

At Thales, we are very excited by the partnership with SES. This will enable us to offer our airline customers, a simple, seamless and secure connectivity solution with unmatched performance.

Find us on Twitter @ThalesAerospace, on our official Youtube channel Onboard TV and on LinkedIn Thales Aerospace.