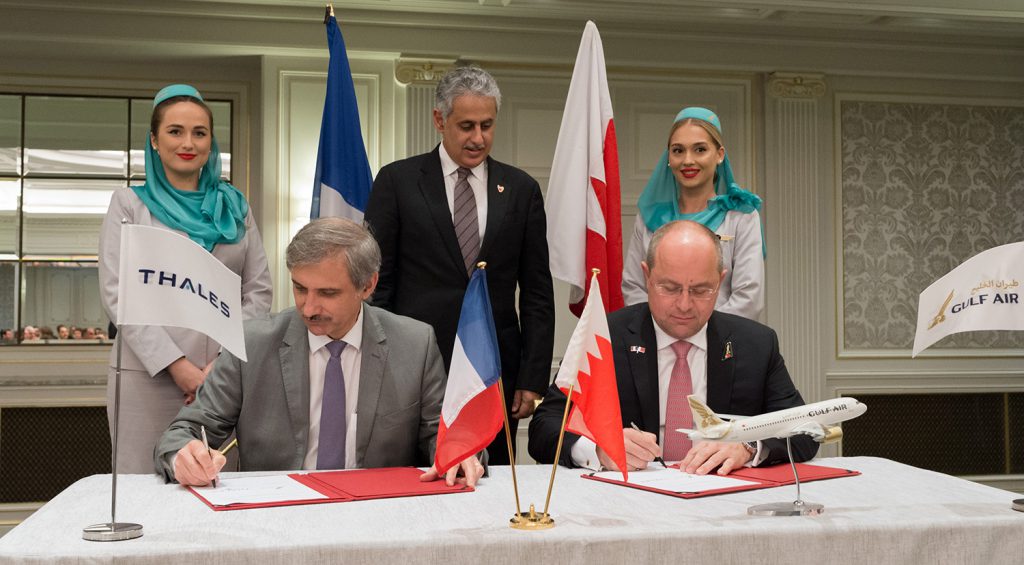 Thales has announced that Gulf Air, the national carrier of the Kingdom of Bahrain, has chosen Thales' Ka-band connectivity solution for their B787-9 and A321Neo-E (LR) aircraft. The airline is renowned for its traditional hospitality and its commitment to being an industry leader by developing products and services that reflect the evolving needs and aspirations of their passengers for a modern travel experience.
Over the years Gulf Air has worked closely with Thales to support their strategic growth plans to elevate customer experience. In 2016 the airline selected the AVANT inflight entertainment system for their complete fleet renewal program. With the pairing of Thales' IFE and global connectivity solutions, Gulf Air's passengers will enjoy a unique and engaging experience.
Thales will deliver the highest performing connectivity service on the market, providing a complete end-to-end connectivity solution. Through the connectivity portal and onboard Wi-Fi network, passengers can browse the internet, check social media, shop onboard and much more during their flights.
Thales' Ka-band connectivity solution leverages the INMARSAT Global Xpress satellite network. It is designed as a robust, modular and full-featured platform for a best-in-class onboard experience with reliable, seamless high-speed global coverage.
In 2016, Gulf Air selected Thales's state-of-the-art AVANT inflight entertainment system for their fleet renewal program. AVANT offers a highly customizable passenger experience with Full High-Definition displays and a wide selection of features and applications. Thales's latest IFE innovations combined with global Ka-band connectivity provide unique services that transform passenger experiences wherever they fly.
"Thales is proud to be a long-term partner with Gulf Air in their goal of excellence in passenger experience. It is an honor to equip Bahrain's national carrier with our connectivity solution and the AVANT high-performing IFE system onboard their newest aircraft. Thales is committed to support Gulf Air in driving innovations and the highest standards in passenger engagement," stated Philippe Carette, Chief Executive Officer, Thales InFlyt Experience.
"We are proud to announce our partnership with Thales once again for the onboard connectivity project. Back in 2016 we selected AVANT IFE system for our yet-to-receive orders of new aircraft and today we complement this partnership with Thales for another product – all to elevate the customer experience during the flight," added Krešimir Kučko, Chief Executive Officer, Gulf Air.
Picture credit: © Bahrain Economic Development Board