Gulf Air selects AVANT IFE system for fleet renewal programme
Jul 12. 2016
The national carrier of the Kingdom of Bahrain has selected the AVANT In-Flight Entertainment system on their new fleet of B787-900, A320 NEO and A321 NEO, totaling 39 aircraft. The first B787-900 and A320 NEO deliveries are scheduled for 2018 and the A321 NEO delivery will start in 2020.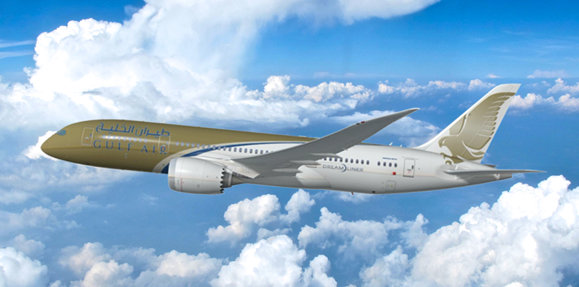 Gulf Air expects the new cabin to be the pride of the Kingdom of Bahrain. Thales is committed to providing a premium passenger experience on Gulf Air's new fleet with the AVANT state-of-the-art Android-based IFE solution. AVANT offers a highly customisable passenger experience with a wide selection of features and applications.

Mr. Maher Salman Al Musallam, Gulf Air Chief Executive Officer, said: "We are delighted to introduce an enhanced product and service offering onboard Gulf Air's newest aircraft - further appealing to passengers across the globe. We are committed to ongoing investment in the Gulf Air offering, to elevate our passenger experience. With Thales AVANT IFE system passengers now have greater entertainment options onboard, ensuring their comfort."

The orders comprise 45 aircraft in total, 39 of which will be equipped with the latest AVANT full high definition monitors, the most lightweight ever deployed. The business cabin will be equipped with the award winning Thales Touch Passenger Media Unit providing the opportunity to multi-task on a second screen, which greatly enhances passenger experience.

Find us on Twitter @thales_avionics, on our official Youtube channel Onboard TV and on LinkedIn Thales Aerospace.