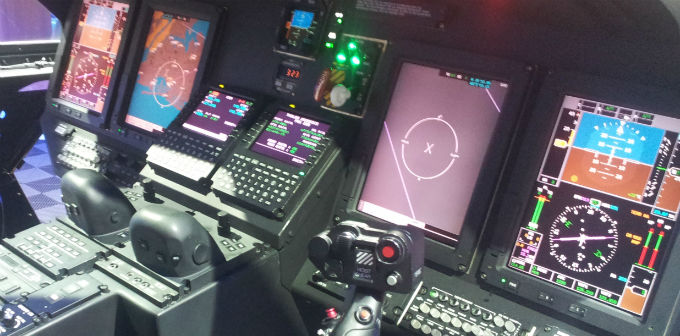 The global helicopter market
Today's global helicopter market is facing significant external pressures. Notably, economic externalities such as high oil prices are making the exploitation of energy deposits that previously were not economically viable, a real possibility. As a result, a growing number of deep water extraction platforms in harsh economic environments, like the North Sea or the Siberian Tundra, require larger helicopter fleets able to safely navigate whilst maintaining good capacity, comfort and speed. They therefore require helicopter fleets focusing on the medium to heavy twin segments. Many Major OEMs like Sikorsky, Airbus Helicopters, AgustaWestland and Bell are concentrating their investment on this market.
Solutions showcased at this year's HELI-EXPO, like the ground-breaking TopDeck Avionics Suite and innovation platforms like the Avionics 2020, unveiled here for the first time, are the result of a product philosophy which places the needs of a pilot's mission at the center of the avionics architecture. Solutions offered by Thales, from equipment, subsystems and systems in the areas of flight management, navigation, communication and surveillance, are structured around the needs of all potential mission profiles the helicopter could encounter, making our products the most flexible and able to respond to changing and evolving needs. Furthermore, as a pioneer in simulation technology, Thales is also a world class provider of integrated training solutions for the helicopter market, offering a comprehensive range of solutions tailored to all training profiles for the civil and military markets. This year at HELI-EXPO, Thales features its Reality H simulator, the most advanced helicopter simulator on the market.
Avionics 2020
The new-generation helicopter cockpit designed to increase helicopter versatility and mission efficiency while reducing pilot workload.
Unveiled at HELI-EXPO 2014, Avionics 2020 represents the new-generation in helicopter cockpit avionics. A concept adapted to the needs of civil and military helicopter pilots and their missions, Avionics 2020 is the result of a number of partnerships, spearheaded by Thales with researchers, scientific institutions and world class experts over a number of years. Its aim is to refine the understanding of the field of human-machine interface. These efforts, culminated into a newgeneration cockpit founded on the principles of natural and direct hands-on interaction, designed to give the pilot all the elements needed to make the right critical decisions at the right time. The 2020 concept introduces modern and effective cockpit architecture, reconfigurable to specific mission requirements and structured to offer pilots with an advanced human machine interface. Avionics 2020 easily integrates future capabilities and functions to optimize and secure a wide range of helicopter missions, also taking into account specific functionalities driven by civil mission types such as SAR, EMS or offshore missions as well military mission types such tactical, combat or reconnaissance operations.
Reality H Helicopter Simulator
The most advanced helicopter simulator in the world
Thales's high fidelity Helicopter Full Flight Simulator will be on show on the Thales stand this year. This mission-orientated training system is already in service around the world, providing improved operational efficiency and high quality training supported by a powerful image generation system, full instructor control and high accuracy motion and controls. Through the display of its capabilities in Synthetic Environments for Mission Training via video on the stand, Thales will illustrate its leadership in the area of Mission Training for complex mission such as Air Tanker training, land forces operations or urban operations.
Helicopter Avionics
Integrating Safety & Capability
Thales Helicopter Solutions are rotorcraft-dedicated avionics and mission specifics from on-board equipment to fully integrated systems for both civil and military helicopters. Thales solutions have been selected for more than 2,000 military helicopters and more than 5,000 civil helicopters around the world. Thanks to its ability to leverage technological expertise across all its domains, Thales has built a helicopter avionics product offering which draws on expertise learned from being the prime provider of avionics solutions to the world's best airframers.