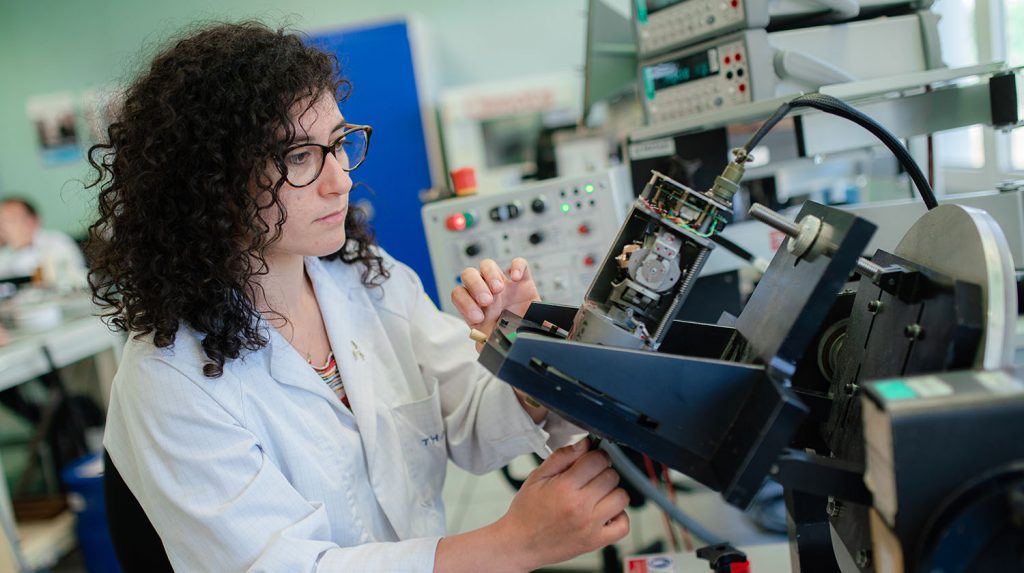 Hello Camille. First of all, can you tell us about your career?
I have had a rather atypical career path ... I was working in the luxury clothing sector, when I decided to reorient myself towards the traditional crafts sector,  and to watchmaking more particularly. I obtained a Certificate of Professional Qualification as a fine Watchmaker, a course that focused on repairing watches. I had to take care of watches that could be very complex, such as chronometers with an automatic system. It was very painstaking, but after graduation and with the crisis in the watchmaking industry in Switzerland, opportunities for working in this technical field became scarce. And so it was following a call from a temping agency to work for Thales in repairing avionics equipment, that I joined the Group.
Camille, can you tell us what your job is about? Tell us about your daily worklife?
My job is to repair emergency equipment. First, I analyze the failure and define the repairs that will have to be made on equipment. Then, I carry out the repairs and the tests by making sure that I respect the deadlines, quality requirements and all the technical and safety regulations.
This requires a lot of rigour, know-how and sharing with my colleagues! There is also a real desire to share knowledge, skills and assistance.
And because at CSC, it's all about technical and performance excellence as well as customer satisfaction, I get to communicate with many of my colleagues about quality, methods, lean management, supply chains, customer service... to ensure the smooth repair of the customers' equipment.
In a few words, if you had to describe your work environment, the atmosphere at the Châtellerault Customer Support Center, what would you say?
It is very nice to work here because there is a lot of solidarity. There is a real sharing of technical knowledge. As soon as we arrive, we are given all the tricks, tips and knowledge to enable us to work well. Moreover, as soon as I arrived in the company, I was accompanied by an expert until I achieved complete autonomy for detection, analysis and repairs.
Do you find similarities between your position in luxury watchmaking and the repair of avionics equipment at Thales?
Before, when I worked in watchmaking, I repaired very small watches that required expertise on the internal mechanics of the product as well as accuracy, speed, rigour and cleanliness (a bit of dust in a watch mechanism and it may not work anymore). It's exactly the same at Thales! The equipment is bigger, but the requirements are the same. And to know that the equipment that I have in my hands, will be on board a plane carrying hundreds of people, pushes me to be even more meticulous.
When the photo above was taken, what were you doing?
That day, I was carrying out tests and so I simulated the position of the aircraft by testing different angles to measure the drift. Put more simply, the technical documentation of this product specifies the tests to be performed to verify its proper operations. The equipment that I am testing in the picture is a Horizon (avionics system). Its function is to provide a pilot with the position of a flying plane in relation to terrestrial gravity.
So, I have to make sure that the equipment is 'well-balanced' and within accepted tolerances, which means that no matter where it is placed on board, it will work and the information provided will be accurate. For example, if a plane is in a 50-degree nose-up position, will my equipment give the correct information to the pilot? To be sure, I measure the drift over a measurement time requested by the technical documentation and then depending on the result (type of drift), I balance my equipment until I get acceptable and reliable values.
Thank you Camille!