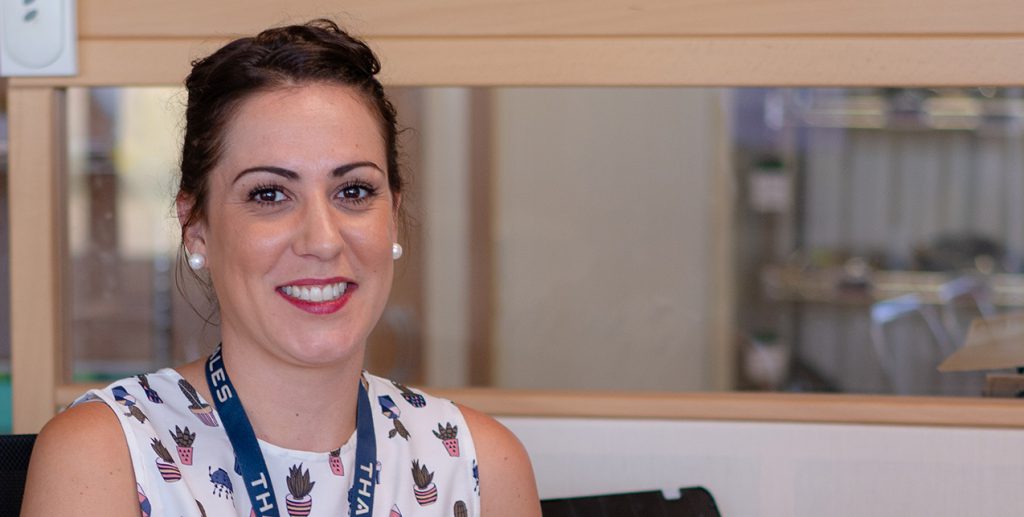 As soon as a failed piece of equipment is received at the Châtellerault Customer Support Center, it is taken care of by the service department called Service Optimized by Performance and Efficiency (SCOPE). Strategically located at the heart of the Supply Chain, this department allows the support of equipment to be repaired by Thales or its subcontractors and ensures that the equipment is delivered on time to customers. And that's where Emilie works.
Emilie is in charge of order administration. Her role is to manage, analyze and enter all repair orders. Every day, she is in contact with customers to perfectly fill in the order entry, and she collaborates closely with Thales reception officers, customs managers, repair technicians, the Lean team, etc. Together, they are committed to constantly improving on-time delivery performance. The main goal is to provide customers with a service that meets their expectations and even more.
"For example, sometimes our customers request that their equipment be repaired and delivered within a very short timeframe. In that case, my role is to make sure the order entry is completed as soon as possible and that it is accurate to avoid any interruption in the repair and delivery chain. When the order is delivered to the customer within two, four or six days depending on the order then I feel that my mission has been a success."
Here is the full interview with Emilie.
Emilie, can you introduce your career and your job?
After two years as a purchase apprentice to get my BTS ('Brevet de Technicien Supérieur', a 2-year technical degree after high-school) in Assistant Management, I joined Thales in Châtellerault as an order administrator.
I work within the SCOPE department (Service Optimized by Performance and Efficiency). This department is at the heart of the supply chain and enables the support of equipment to be repaired and, after repair, ensures delivery to customers.
My job is to manage sales orders (from initial order entry to invoicing) and to ensure timely delivery of equipment to customers.
Being an administrator of orders requires versatility, excellent relationship capabilities with customers but also colleagues, rigor and a strong will to find a solution to any type of problem that may arise.
Can you describe a typical day and the challenges you can face?
First of all, every morning, my team and I look at the numbers of the day to define priorities. Then, I manage the workflow of equipment, that is to say, enter, complete or finalize the many order files, and of course I participate in daily meetings with different teams to solve the difficulties encountered or share important information on records.
There are many other challenges. My role as an order administrator is to analyze operational problems, propose improvements to solve them and ensure document quality.
Last but not least, there is a challenge that I face every day with passion and drive: responding to all customer requirements as quickly and efficiently as possible. For example, sometimes customers want us to repair and deliver their equipment in an extremely short time, my challenge is to make sure that the order file is captured as quickly as possible, and especially that it is accurate and complete, in order to avoid any interruption in the chain of repair and delivery.. When equipment is delivered to the customer in two, four or six days I feel that my challenge has been a success.
If you had to describe in a few words your work environment, the atmosphere at the Châtellerault Customer Support Center (CSC), what would you say?
In a few words... I would say, customer satisfaction. This is our watchword! Then I would talk about team spirit, collaboration, performance and industrial excellence, as well as passion and innovation.
Working at the CSC is about having the opportunity to work in an innovative environment (even more so since the opening of the Digital Lab dedicated to innovation in January 2019) and constantly seeking industrial excellence and customer satisfaction.
Additionally, our management enables us to propose and implement solutions to improve our daily lives and the customer experience. We can work on many projects, even outside our scope of work and for me; it's really an asset, an opportunity to develop my skills further!
And finally, I have to insist on the really nice atmosphere that reigns here at the Customer Support Center!!!