JetBlue celebrates the entry into service of its restyled A320 aircraft featuring Thales AVANT TV IFE
Mar 22. 2019 JetBlue Airways' newly restyled A320 aircraft will fly with AVANT TV, Thales's state-of-the-art Android IFE solution including integration with live television. Passengers will enjoy a custom-designed experience with a wide selection of entertainment and the latest high definition screens at every seat.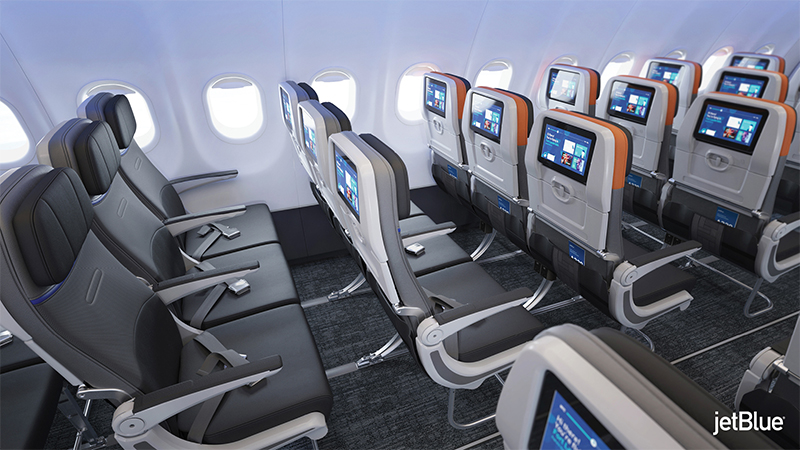 JetBlue Airways and Thales are celebrating the entry into service of the airlines newly restyled A320 aircraft that will fly with Thales's state-of-the-art AVANT inflight entertainment system (IFE).
Thales is a long term business partner with JetBlue, providing the airline the only fully integrated connected AVANT IFE system with live TV on the A320 fleet. The IFE solution features modern industrial design, an open platform offering a customizable passenger experience with the latest applications and games on the market.
New to JetBlue, AVANT is an Android-based system equipped with high capacity servers, locally stored content, and integration with the onboard connectivity system. Every seat on the A320 aircraft will feature the latest 10" high definition (HD) screens with picture-in-picture functionality, custom connected applications, audio-and-video-on-demand, and personal device pairing to offer more entertainment options than ever. Through our partnership with DirecTV, JetBlue will also be the only airline to provide its customers with access to over 100 Channels of live content through Thales' AVANT TV IFE system.  For the first time ever, JetBlue's customers will also be able to pause and buffer live television - a true at home experience.
Thales and JetBlue began their partnership in 2000 when Thales was selected to launch live television to every seat on their A320 fleet. This longstanding relationship with the airline has supported the delivery of 253 single aisle aircraft with Thales's inflight entertainment and connectivity solutions. With AVANT+TV, JetBlue guests will enjoy an immersive and engaging experience with a vast choice of entertainment and information during their flight.
"Thales is proud to have been a business partner with JetBlue since the beginning of their IFE evolution. The airline has reimagined the flying experience, and with our custom-designed AVANT IFE solution, we've helped JetBlue reimagine their passenger experience on the A320 platform," said Philippe Carette, Chief Executive Officer, Thales InFlyt Experience. "We look forward to collaborating with the airline to create new opportunities that wow their passengers with a unique and personalized inflight experience."