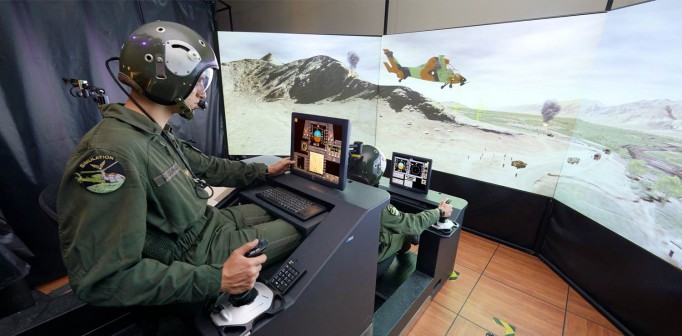 Comprising 30 real and simulated helicopters and involving 300 people, the Aozou exercise demonstrated the operational benefits of connecting different simulation systems together with real helicopters and a command terminal in a network.
For the first time ever, two French Army simulation centres physically located more than 150 kilometres apart in Eastern France, were connected together to operate as a network, with a total of 12 simulated helicopters interacting in the same tactical scenario. Both simulation centres are equipped with the Helicopter Mission Trainer (HMT), a multi-platform tactical training system developed by Thales, which also incorporates a powerful Computer Generated Forces (CGF) system from Thales to animate a realistic virtual tactical environment.
To connect the two simulation centers, Thales used a wide area network (WAN) connection (remote network) and also the high-level architecture (HLA) gateway installed on the simulator providing networking capability. This networking capability enables a more global training environment to perform inter-arm coordination in a complex operational scenario.
The integration of the HMT simulators with the operational information system enabled them to share the same tactical situation. Simulated helicopters, but also virtual actors generated by the CGF were presented to commanders and others taking partin the exercise in the same way as actual helicopters.
For the armed forces, these integrated solutions bring a new dimension to operational training in terms of theatre location, number of participants and types of scenarios that can be used.
Five questions to Vincent Megaides, Business Line Strategy Director at Thales Training & Simulation
Could you give more details about the Thales Helicopter Mission Trainer system?
The HMT has been designed to provide cost-effective and efficient training for the acquisition of tactical skills, individual and collective mission readiness and rehearsal. This flexible multi-aircraft trainer is very effective for developing tailored mission scenarios of all kinds, and training aircraft, patrol and squadron commanders.
Due to the high flexibility of the system, the HMT covers a large range of training solutions: Education to learn the combination of elementary and repeatable actions linked to helicopter use and command; Individual and Crew Training to achieve different tactical missions in a fully virtual environment representative of an operational theatre for the training of tactical skills; Collective Training to achieve coordinated tactical missions in a complex virtual environment involving different forces and civilian players.
The HMT is an efficient tool to acquire tactical skills and automatisms before undergoing a real mission. In addition, thanks to the highly realistic terrain representation, crews can also be familiarized with the theater of operations before arriving on site.
The HMT has already proven its operational benefits in several major external operations. Deployed across several regiments and schools in France (four sites with 12 simulators in total), it is used by French Army Aviation to prepare helicopter crews before conducting external operations, and even doctrine adaptation.
What are the main benefits of connecting different simulation systems together in a network?
The networking of different simulators allows cost savings by overcoming hardware constraints and reducing the number of actual helicopters deployed in an exercise (cost savings in terms of kerosene, maintenance, ground staff and support).
Depending on the size of the visual database available, the networking of various simulators in different locations can also allow the scale and the space coverage of the exercise to be expanded.
From a tactical point of view as well, with networked simulation systems pilots and air crews can train in all kind of demanding weather conditions without time constraints, with limited risks and at a lower cost.
What are the main challenges of connecting different simulation systems together in a network?
It relies on the good control of the High Level Architecture protocol, and the know-how to perform real-time simulation without time discrepancy whatever the physical distance between the systems.
Another challenge is to ensure that the simulation does not require oversizing the secure line. To reduce the size of the secure network connection actually requires a major expertise in the treatment of information circulating between centers, and this is where Thales has a discriminant.
What does the Aozou exercise signify for Thales's presence in the simulator market?
The innovations developed by Thales specifically for this exercise confirm the position of Thales as a pioneer in the simulation networking technology, allowing not only to connect different simulation systems together, but also to connect different simulation centers, and even to interconnect Live, Virtual and Constructive assets in a common exercise.
How do you expect the role of simulators in operational training to further develop in the future?
In the future, simulated platforms will be fully integrated in live training exercises. This will also allow a large number of different platforms to train collectively in real-time scenarios and on a common operational theatre for large-scale collective training.
Thales innovations play a crucial role in the Aozou live training exercise as part of the operational training programme for French Army Light Aviation (ALAT) helicopter pilots and air crews.
Thales is a global leader in simulation, offering a broad portfolio of products, services and solutions. For helicopters, Thales solutions range from task trainers to full mission simulators, with more than 110 helicopter simulators delivered to customers in 25 countries around the world. Thales and its partners have provided Tiger helicopter simulators for France, Germany and Australia.
photo credit: copyright Thales - Reytinas