Onboard speaks with Stuart Dunleavy, Vice-President Marketing and Customer Proposition
Jul 31. 2010
TopSeries wins contract for A350
Airbus recently selected Thales as a supplier of IFE systems for the new A350 XWB. Stuart Dunleavy, Vice President of Marketing and Customer Proposition, gives us details of this contract and tells us why the next generation TopSeries will offer Airbus passengers a richer IFE experience.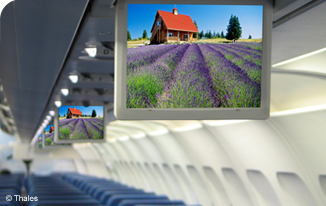 What does this contract mean to Thales?
In order for Thales to maintain its global leadership position in IFE, it's crucial that our IFE systems be selected for the latest aircraft type. So, we are delighted to have been selected as one of only two IFE system suppliers for the A350. This contract reinforces our very important relationship with Airbus and our future in IFE.
What are the main characteristics of the new TopSeries platform?
Every aspect of the system is smaller and more energy efficient. We've moved processing power and intelligence into the seat itself, allowing us to completely remove seat electronics boxes. This has helped reduce the overall system weight by nearly 50 per cent.
What improvements have been made to the passenger experience?
Firstly, we've introduced capacitive touch screens to offer the kind of sensitivity and responsiveness you'd expect from an iPod or Android. We've also introduced USB ports and 9-pin connectors so that passengers can plug in their own devices – an extremely important function given the prevalence of personal devices today.
The other area we've focused on is air-to-ground connectivity. Thanks to satellite expertise within the Thales Group, TopSeries will give passengers access to real time news, sports and destination information while they're in the air.
What were the key factors that helped Thales win this contract?
We met their A350 aircraft requirements. Airbus looks for system reliability and excellent support, and we demonstrated this through system redundancy and a good track record, with Thales IFE systems flying on several hundred Airbus aircraft today.