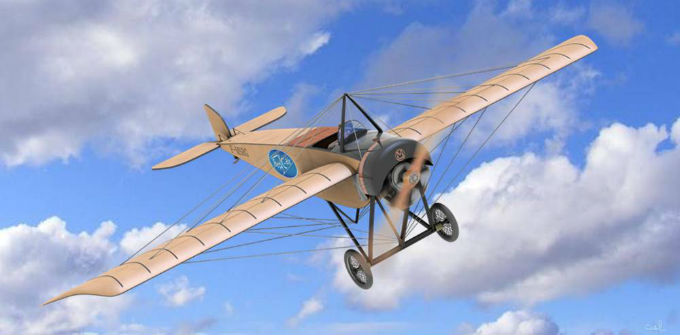 This year Réplic'Air will be seeking to mark the centenary of a tremendous achievement by aviator Roland Garros, who in September 1913 succeeded in crossing the Mediterranean from coast to coast aboard a Morane-Saulnier aircraft, overcing numerous technical difficulties en route.
Three years ago, in 2010, the Réplic'Air association decided to rebuild the aircraft used by Roland Garros. The venture has had to overcome many hurdles: retrieving archive documents, redesigning plans, building the plane, conducting flight tests, etc. On September 23rd 2013, Réplic'Air will seek to re-enact the original flight with a replica of the aircraft.
The aim of the Réplic'Air association is to honour the history of aviation by constructing or reconstructing aircraft and thus replicating concepts that have marked the history of aviation throughout time. A special focus is put on the level of requirements and expertise necessary to enable the reconstructed aircraft to fly.  A team of passionate aviation specialists from different backgrounds and of different generations are on hand to take care of the technological features.
This extraordinary human adventure is grounded on values such as passion, teamwork, pioneering spirit, rigour, respect of history, aeronautical family spirit, transmission of know-how between generations, a taste for large-scale challenges…
As a sponsor of Réplic'Air, Thales shares these values and be covering the Réplic'Air adventure over the coming months on Onboard, the Thales Avionics blog.  
For more information about Réplic'Air, visit www.replicair.fr (in French).