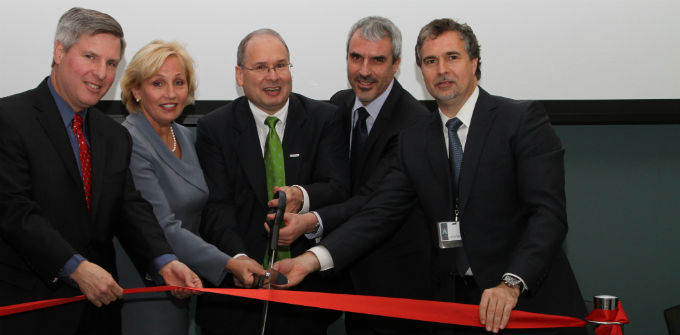 Invited guests for the ribbon cutting ceremony included Acting New Jersey Governor Kim Guadagno and Piscataway Mayor Brian Wahler. In addition to the formal ceremony, guests were given the opportunity to tour the new 61,000 square-foot facility.
At the new facility, the workforce of over 200 employees is equipped to handle basic and complex service needs including maintenance, repair, spare equipment sales, and engineering services for original equipment manufacturers (OEMs), airlines, helicopter and business  jet operators in the Americas.  In addition to delivering quality repairs and spare parts, the Piscataway Service Center is focused on exceeding customer expectations for quality, responsiveness and technical support.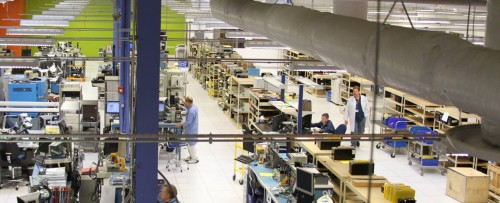 "The new Piscataway Service Center adds significant value to customers through the combined efficiencies of enhanced infrastructure investments and the benefits of 'all under one roof' operations," says Avionics Services Worldwide, Americas Vice President and General Manager Ed Senen. He adds: "the new PSC is the result of more than one year of diligent planning to deliver the uninterrupted support of our customers throughout the transfer of our legacy Seattle and Edison, operations to this state-of-the-art, world-class service support facility."
Main picture, left-right: Brian Wahler (mayor of Piscataway), Kim Guadagno (Acting New Jersey Governor), Ed Senen (Thales Avionics Services Worldwide, Americas Vice President and General Manager), Alain Boursier (Thales SVP Operations Avionics Global Business Unit) and Alan Pellegrini (President and CEO, Thales USA, Inc. ).
Excerpt of speech delivered by Acting Governor Guadagno:
Address of new Piscataway facility:
Thales Piscataway Service Center
140 Centennial Avenue
Piscataway, NJ  08854, United States
New main number: +1 (732) 242 300
New main fax number: +1 (732) 242 6399
Photos: copyright Thales