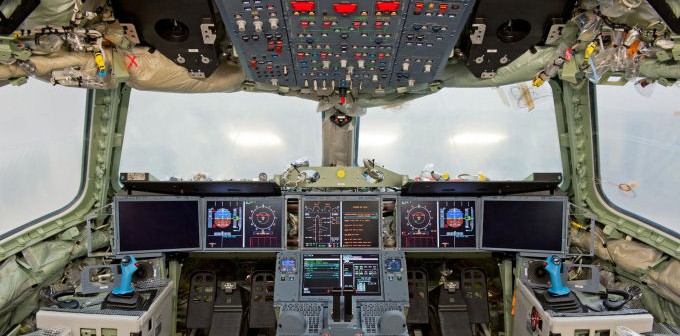 According to Airbus "this significant milestone was a success and is a positive sign of the A350 XWB's progress pre-Final Assembly Line and the readiness of the aircraft's systems". The milestone was also synonymous with functional checks for most of the systems in place.
As a major supplier for the A350 XWB programme, Thales provides a complete shipset of equipment both for electrical and avionics use (see list below).  These equipment were tested by Airbus during the power-on.
A member of the Thales front office team who supported the power-on said "I was very happy to notice that no anomalies were found on any of the Thales equipment and the power-on went very well. This is a proof of the maturity of our equipment and functions".
Moreover, Didier Sanson, the Director of the A350 XWB project at Thales says "achieving this power-on milestone is the result of longstanding teamwork between Airbus and Thales teams. Its success rewards the efforts made in the course of the past years from the iron bird of A350 XWB to this go live of the first real flight deck".  He also adds that "up until today Thales has already delivered some 1,200 items of equipment for the A350 XWB programme".
Avionics shipset
The avionics shipset supplied by Thales for the A350 XWB programme and tested during the power-on comprises the following equipment:
Six integrated wide screen displays*
KCCU (Keyboard Cursor Control Unit)
IESI (Integrated Electronic Standby Instrument for Commercial Aircraft - IESI)
ADIRU(Air Data & Inertial Reference Unit)
CPIOM (Core Processing Input Output Modules)
cRDC* (Common Remote Data Concentrator)
 *In cooperation with Diehl Aerospace
Electrical shipset
Thales provides a complete shipset for electrical power  conversion for the A350 XWB aircraft. This shipset includes:
Emergency ATU x 2 (Auto Transformer Units)
Main ATU x 4 (Auto Transformer Units)
TRU x 4 (Transformer Rectifier Units)
SI (Static Inverter)
CFFC Cockpit (Fixed Frequency Converter)
Photo copyright Airbus S.A.S 2012 - photo by e'm company/ P. Pigeyre