THALES ACCOMPANIES "MIRACLE ON HUDSON" JET AS IT BECOMES A PIECE OF HISTORY
Nov 26. 2011
The U.S. Airways plane that miraculously landed on the Hudson River in New York City in January 2009, saving all of the passengers on board, was transferred to the Carolinas Aviation Museum, and Thales was present along the entire route.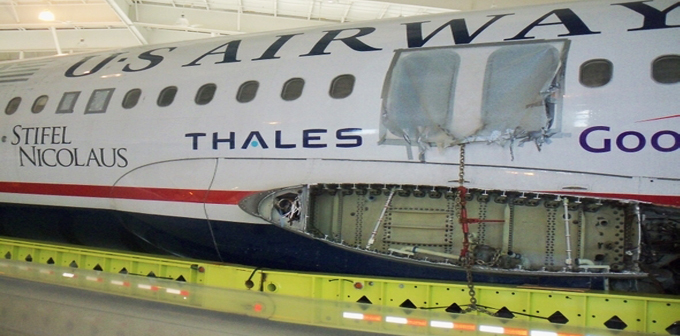 The wing-less plane was transported by ground from a New Jersey warehouse where it had been stored since the 2009 incident, to the Carolinas Aviation Museum in Charlotte, North Carolina. Charlotte was flight 1549's original intended destination, and now that it is there, the plane will be re-assembled for permanent display.
Thales Avionics in Edison, New Jersey has proudly sponsored the museum's display of the aircraft.
The movement of the aircraft fuselage drew a great deal of public attention, with thousands of people following the progress of the journey from New Jersey to Charlotte. The arrival ceremony was held on June 10 in Charlotte. Many of the original passengers from the flight were in attendance along with the flight crew and Captain Chesley "Sulley" Sullenberger, who piloted flight 1549 to the successful water landing.
Thales has also donated an FCD66 display unit which will become a permanent part of the flight 1549 exhibit. Thales Avionics in Edison created a simulated screen to show what the display would look like in the cockpit. This model will be part of a large exhibit in the museum with the purpose of educating the museum visitors about what role various components, such as the Thales FCD66 unit, contribute to the aircraft's performance and how they helped to bring flight 1549 to a successful landing.
The grand opening of the museum display will be held on the third anniversary of the water landing on January 15, 2012.