Thales and China Electronics Technology Avionics Sign Joint Venture Agreement for the new C919 aircraft
Jul 09. 2012
Thales, a leader in In-Flight Entertainment and Connectivity (IFEC) systems and China Electronics Technology Avionics Co., Ltd. (CETCA), have recently signed a Joint Venture Agreement that brings together world-class technology solutions companies dedicated to the new C919 aircraft, manufactured by Commercial Aircraft Corporation of China (COMAC).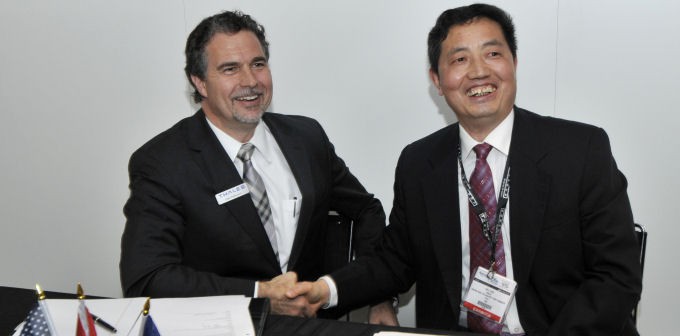 The partnership supports the integration of the Thales TopSeries system in the cabin of the C919. Designed and built in China, the 156 – 190 seat C919 will first take flight in 2014 with aircraft deliveries scheduled to begin in 2016. The Thales system will be a scalable platform offering services ranging from interactive audio capability through to full in-seat on-demand services, with an emphasis on minimizing weight, cost and power consumption. Future evolution of the system will likely include wireless networks and connectivity.
Thales and CETCA are dedicated to establishing this Joint Venture as a global Center of Excellence which provides capabilities covering research development, production, adaptation, maintenance for the in-flight entertainment market. The Joint Venture will augment Thales's existing market leading IFEC business based in Irvine, CA. This Joint Venture takes C919 as the first initiative, and sells IFEC systems and equipment to COMAC and other Chinese OEMs. In addition, based on customer requirements, the Joint Venture will provide products and system integration in support of Thales's core IFEC business to related aircraft worldwide.
 "The global strength of Thales Group and our investment and growth strategy in partnership with both CETCA and COMAC is a strong combination that will ultimately change the landscape of the civil aerospace marketplace in China. We fully expect that there will be excellent demand for the C919 in China and we are proud to be part of this business arrangement," said Olivier Guibert, President Thales China and North Asia region.