Thales and Songdish to develop a music streaming social network for the aerospace market
Apr 09. 2013
At the Aircraft Interiors Expo, currently in progress in Hamburg , Germany,  Thales and Songdish, a music streaming social network for fans and music industry business solution, have announced the development, integration and marketing of a streaming audio application and service for the transportation industry.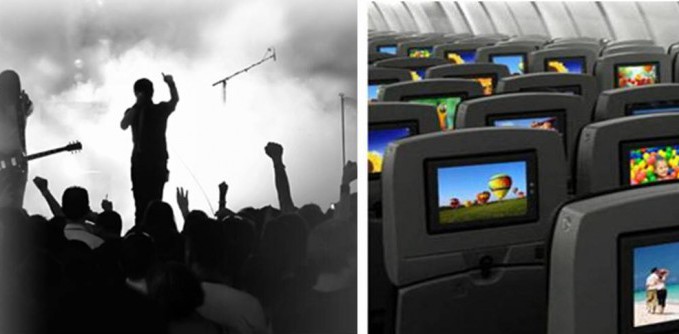 The Songdish application will feature content cached on-board Thales TopSeries® system servers  as well as streamed content for connected aircraft. Along with access to the ever-growing Songdish library, the application provides information related to performers, concerts and destination event information. This will enable passengers to follow their favorite artists, share content with friends, and purchase tickets for events.
Airlines will derive new revenue from a percentage of sales and advertising on all versions of the Songdish mobile app and website. Passengers will have access to the cloud-based system allowing their playlists to be accessed from any Songdish platform including the Thales TopSeries® platform.
Artists, songwriters, record labels and publishers can upload their music content to Songdish for free to be a part of the content provided to the international audience. Airlines will be able to create their own playlists, feature artists and be able to display origin and destination information to passengers through Songdish.
"A welcome addition"
Songdish is a welcome addition to the ever-expanding list of applications to be featured on Thales's system platform. "We are pleased to work with innovative companies that can be molded to fit the commercial airplane market. Songdish represents a number of innovative companies working with Thales whom are willing to adapt their consumer based business models to allow airlines and passengers more flexibility to enhance their travelling experience," said Stuart Dunleavy, VP of Media and Connectivity.
Songdish is excited about the opportunity to work with Thales, a market leader in aerospace. "Thales's proven innovations, all of which enhance the passenger experience, enable Songdish to reach hundreds of millions of passengers each year. We are proud to be able to extend our web-based music service to the commercial airline market that will benefit from Songdish's music library and customer relationship toolset," said Gary Dewaard, Founder and President of Songdish.
Songdish website: www.songdish.com
The concert visual above originally featured on the Songdish homepage.