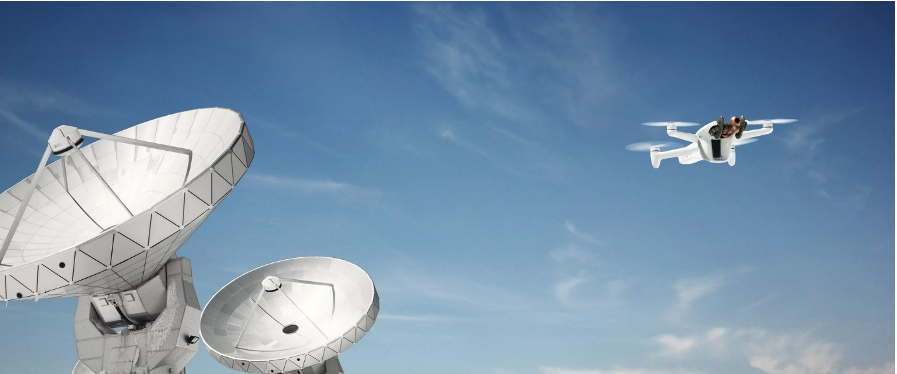 Thales and Systematic today announce the opening of the first long-range corridor in the Paris region will be inaugurated at Bretigny-sur-Orge using the Systematic Hub Drones' facility.
The 20 km-long corridor will see the very first beyond visual line of sight (BVLOS) flight in a semi-urban area operated by Parrot and managed by Systematic Hub Drones, using Thales' digital tools.
The Parrot drone will be equipped with Thales' ScaleFlyt Remote ID, a brand-new drone identification system, and will be tracked and controlled by Thales' TopSky UAS solution
Drone operators having access to Thales ScaleFlyt Platform can easily request digital flight authorizations from Thales' TopSky - UAS solution, allowing Systematic to efficiently manage the safe presence of drones in their airspace corridor
Thales is leading the French cluster of the SESAR JU Digital Sky Demonstrator U-ELCOME, which aims to implement systems and procedures to validate U-space services, alongside Italian and Spanish clusters.
Systematic appoints Frank ERB, Director of UAV Development (UTM) at Thales, as Chairman of the UAV Hub.
In the context of the U-ELCOME Project, Thales, leader of the French Cluster and its key partners, EUROCONTROL and Systematic, are pleased to announce the opening of the first long-range corridor in the Paris area and the first Beyond Line of Sight (BVLOS) UAS flight in a semi-urban area in Bretigny-sur-Orge.  
Unmanned Aerial Systems (UAS), with their considerable potential, are expected to enter the airspace in their hundreds of thousands over the next ten years. This will greatly increase the complexity of the aeronautical ecosystem, creating new safety challenges. Thales has a leading position in this new drone ecosystem, offering solutions ranging from the UAS Traffic Management (UTM) itself to complete infrastructure (including surveillance / detection) for regulating drone traffic.
In December 2021, Thales, Systematic Paris-Region and EUROCONTROL inaugurated the CEDIF (Centre d'Excellence Drones d'Ile-de-France) in Bretigny-sur-Orge, which aims to offer a comprehensive platform to incubate, validate and industrialize all direct and indirect activities related to drones. This center has become a key pillar of drone traffic regulation infrastructures and an accelerator of innovation and economic development in the region.
Thanks to its unique positioning, Thales will leverage its expertise and impact on the drone ecosystem in the Paris area bringing to:
Drive forces and technical support in dealings with national authorities (DSAC) for the creation of new flying areas,
Federate our partners and drone/UTM players,
Orchestrate the various activities leading to the deployment of U-space services in France.
The Sud Francilien corridors is targeting a full implementation of these systems and procedures by October 2025.
"This first flight as part of the U-ELCOME project demonstrates the ability of Systematic Paris Region and Thales to accelerate innovation and deployment in the UAS Traffic Management industry, locally and internationally. We're taking off together and looking forward to future flights." Frank ERB, Director of UAV Development (UTM), Thales as Chairman of the UAV Hub.
About the U-ELCOME Project
The U-ELCOME project gathers 51 international partners. The French team is composed of Thales as well as Systematic and InnovATM. U-ELCOME is one of the first projects (with BURDI and ALU-AER) which will implement innovative technologies, used mainly in laboratories or at small scale up to now. This implementation will be at large-scale and using the new EU regulation package when providing assurance to the authorities the operations will be safe.
U-ELCOME aspire to show the path, to be a scout at both European level (for the other EU countries) and local-levels (cities and regions of France, Italy and Spain willing to allow drone operations)
This project has received funding from European Climate, Infrastructure ad Environment Executive Agency (CINEA) under grant agreement No. 101079171.
About Thales
Thales (Euronext Paris: HO) is a global leader in advanced technologies within three domains: Defence & Security, Aeronautics & Space, and Digital Identity & Security. It develops products and solutions that help make the world safer, greener and more inclusive.
The Group invests close to €4 billion a year in Research & Development, particularly in key areas such as quantum technologies, Edge computing, 6G and cybersecurity.
Thales has 77,000 employees in 68 countries. In 2022, the Group generated sales of €17.6 billion.