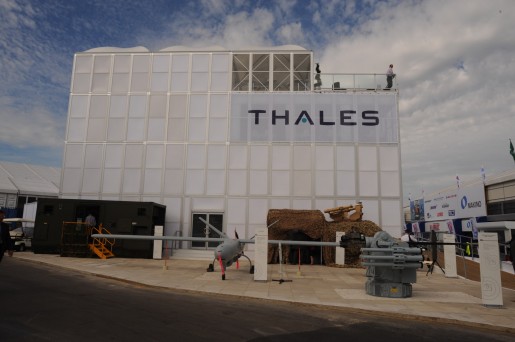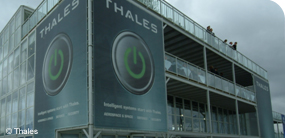 Innovative IFE
Thales will be displaying its user-friendly IFE system, TopSeries - today installed on more aircraft types than any other IFE system. It enhances passenger experience with connectivity options and widescreen HD (High-definition) displays, among a host of other innovative applications.
Thales's TopFlight Satcom, which provides a satellite link to the aircraft, lies at the heart of Thales's range of connected airborne solutions, TopConnect. Along with SwiftBroadband technology, it offers extended broadband capability so that passengers can use mobile phones and the Internet during their flight. Drop by and test out this in-flight experience for yourself!
Cutting-edge Avionics
Thales provides a wide range of avionics systems for fixed and rotary wing platforms. The company's sophisticated onboard communica¬tions, navigation and display systems feature on latest and next generation aircraft, including Airbus's A400M and A350. Thales is also present with electrical power conversion systems, the Integrated Standby Flight Display (ISFD), and the In-Flight Entertainment (IFE) system (70 per cent selection rate) onboard the Boeing 787 Dreamliner.
The Thales pavilion will feature systems including TopDeck, the integrated avionics suite designed for both civil and military helicopters. TopDeck, based on a versatile and scalable glass cockpit architecture, reduces the pilot's workload, shortens reaction times and increases safety.
Thales is supplying a full glass cockpit for the Sikorsky S76-D and more recently has been selected by the UK Ministry of Defence to provide the cockpit for the UK's fleet of Chinook helicopters.
Unmanned Global Awareness
Find out more about the latest generation systems from our military domain, including the Watchkeeper 450 unmanned air system (UAS), a reconnaissance and intelligence-gathering system for use in tactical environments. A full-scale model of this UAS will be on display outside the Thales chalet.
Watchkeeper will provide the UK Armed Forces with a persistent ISTAR (Intelligence, Surveillance, Target Acquisition, and Reconnaissance) capability, and will be a key component of the UK's Network Enabled Capability (NEC) in operations.
Simulating ahead of the game
Stop by the Simulation Zone at the chalet and check out the Thales desktop simulator. This system, adaptable for military or civil requirements, will be used to support the training of Boeing 787 maintenance technicians and flight crew. The high-fidelity system simulator, developed in collaboration with Boeing, has common software with Level D full-flight simulators so as to ensure continuity of training and to increase reliability.
Thales also supplies the avionics and full-flight simulators for the A400M, featured at Farnborough 2010.