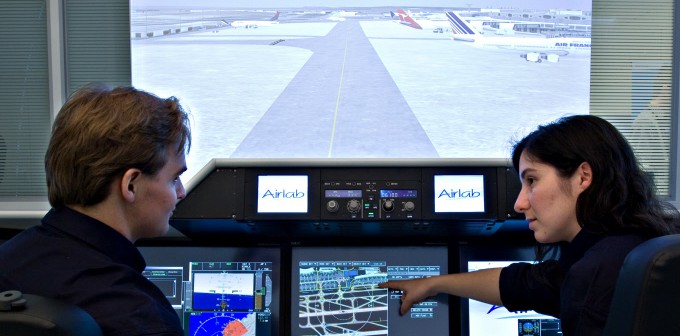 Today Thales stands as the single most important private enterprise contributing to this essential project. With 40% of the ground industrial share of investment and 250 experts dedicated to SESAR, Thales's contribution is close to double that of the second industrial player in the project. And in its role as the only provider covering all segments of the project (ground, air and space), Thales has clearly staked its might and global credibility on the success of SESAR, and the project will succeed largely due to the Group's efforts.
Looking back on 2012, the year kicked off in a blaze of glory with the successful I4D flight test  between Toulouse and Stockholm, in February. The test, aimed at coordinating data exchanges between different control centres and the test plane all of which utilised Thales equipment, accurately predicted the planes trajectory, vector and arrival time within a margin of error of mere seconds.
The test was followed by stringent simulator tests making full-use of the Thales TopSky-ATC and TopSky-Simulation Industry Based Platform (IBP). This success is paving the way for the implementation of processes which can bring a marked improvement to the arrival sequence at airports and limit delays and fuel consumption, especially in dense traffic conditions.
On the ground, the French provider of air navigation services, DSNA, using the Thales TopSky-Tower IBP (Inbound Planning) solution, successfully conducted several real-time simulations at Charles-de-Gaulle Airport in Paris of new departure sequencing, digital taxi and routing functions.
The DSNA and Thales have also been involved in trials using the System Wide Information Management (SWIM) and the European ATM network infrastructure (Pan-European Network Services or PENS). SWIM elements allow for faster and easier integration between various ATM systems. This represents a first step towards Flight Object sharing between ANSPs and paves the way towards Interoperability (IOP) in Europe.
Finally, the Flight Management function developed by Thales was tested during the first Airborne Separation Assistance System Spacing (ASPA) trial flight in November, with a view to shifting from an airspace-based environment to a trajectory-based environment. The ASPA solution, which automatically ensures the spacing between two aircraft in an approach phase, improves air traffic management efficiency thanks to better sequencing and merging of air traffic in a congested area.
The next milestone is scheduled in June 2013 with a tri-party validation exercise to demonstrate operational benefits for all stakeholders.
* SESAR is the operational and technological dimension of the Single European Sky initiative: an ambitious initiative launched by the European Commission in 2004 to reform the architecture of European Air Traffic Management (ATM). Website: www.sesarju.eu