Thales on board France's future tanker aircraft
Feb 02. 2015
The twelve A330 MRTT (MultiRole Transport & Tanker) aircraft that are set to be delivered to French forces from 2018 onwards, will be equipped with a military avionics system incorporating a CNI (Communication, Navigation, Identification), and CRPAs (Controlled Radiated Pattern Antenna) provided by Thales. Frédéric Tournadre, the director of bids and projects for military avionics export activities of Thales, details the project.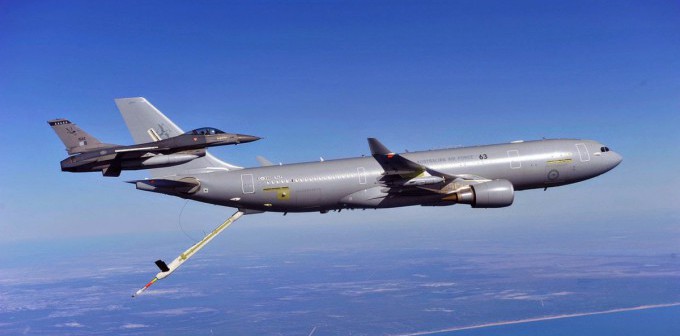 What are the avionics systems and military mission systems used for?
The MAS, Military Avionics System, is the main part of our offer. This system is in charge of managing the military functions for Communication, Navigation and Identification alongside the civil capabilities of the A330.
In parallel, we are enhancing the civil avionics functions by adapting them to military requirements (Flight Management, man-machine interface media, etc.)
What are the benefits of this system?
Our MAS system has been conceived to enable integration on the A330 cockpit with minimum impact. Its modular architecture allows easy adaptation to different configurations of the A330 MRTT.
Is this the first time that an anti-jamming antenna has been integrated on this type of aircraft? What are the benefits?
Other active antennas have already been integrated on the A330 MRTT in the past. The TopShield CRPA, a product developed by Thales, will ensure optimum performance with regard to operational scenarios defined by the French defence procurement agency, with high levels of integration.
What are our other references on this type of aircraft?
This contract is not the first of its kind for Thales. We have already equipped the A330 MRTT of the Royal Australian Air Force and of the United Arab Emirates Air Force as well as the FSTA (Future Strategic Tanker Aircraft) of the UK's Royal Air Force.
What type of feedback have you received from users?
The initial feedback has been positive. It has been forthcoming from Airbus Defence & Space and from Air Tanker, which operates the FSTA and of which Thales is a stakeholder. The A330 MRTT contract for France represents a real opportunity to strengthen our skills on our strategic domains (Flight Management System, Military Avionics System, anti GPS jamming CRPA), and to continue to value our leadership on critical technologies for the Europe's large-scale future defense programs.
When will the first deliveries of French A330 MRTT take place?
The aircraft will be delivered from 2018 onwards. They will replace the fleet of KC-135 currently in service.
The A330 MRTT
The A330 MRTT, which can carry up to 111 tons of fuel in its wings, excels in Air-to-Air Refuelling missions and can refuel any kind of receiver, without the need for any additional fuel tank, hereby avoiding any reduction in its ability to carry passengers or cargo. Thanks to its true wide-body fuselage, the A330 MRTT offers a great variety of configurations. It can be used as a pure transport aircraft able to carry up to 300 troops, or a payload of up to 45 tons. It can also easily be converted to accommodate up to 130 stretchers for Medical Evacuation (MEDEVAC) missions.