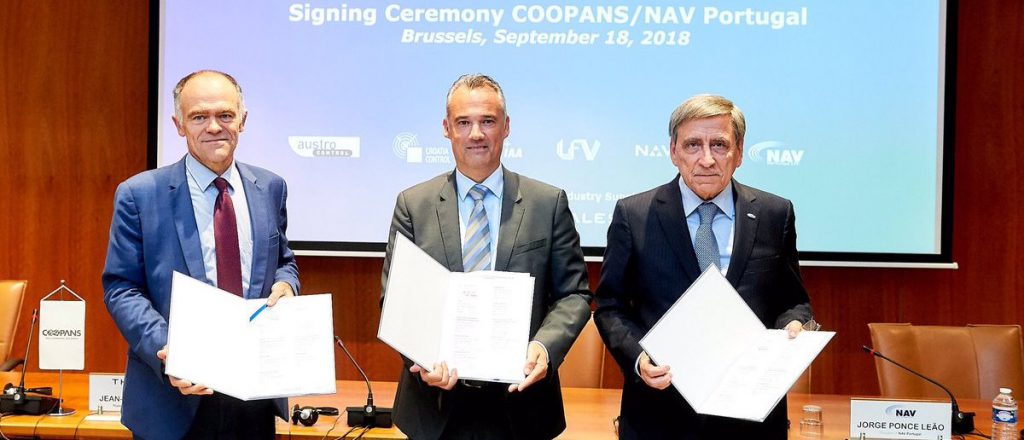 COOPANS stands as the leading example in Europe of an industrial partnership with cooperation between multiple air navigation service providers (ANSPs) - Austria (Austro Control), Croatia (Croatia Control), Denmark (Naviair), Ireland (Irish Aviation Authority) and Sweden (LFV) - and a good working relationship with its ATM system supplier - Thales.

This international partnership aims at operating and developing a common air traffic management system with the largest air traffic volume managed in Europe.

"The strategic decision to join the COOPANS Alliance was to provide NAV Portugal with a better position to address the technological and procedural challenges posed to Air Navigation Service Providers by the Single European Sky Directives, requirements and definitions, as well as to address to the strong and unforeseen increase in traffic registered in recent years in the Lisbon Flight Information Region (FIR). We strongly believe, that being a member of the COOPANS Alliance will have a very positive technological, operational and economic impact on NAV Portugal", says Jorge Ponce Leão, President of NAV Portugal.

By joining the COOPANS Alliance, NAV Portugal will benefit from the same unified and advanced ATM system as the 5 ANSPs members of the COOPANS Alliance: Thales TopSky. It will be able to handle increased traffic with enhanced operational performance and safety, minimizing costs to its customers.

The COOPANS Alliance now benefits from the same software version at seven ACCs, across five ANSPs. This approach minimises costs to its customers by keeping system costs down, resulting in savings of about 30 % compared with a standalone model.


"
We are very proud that the Thales TopSky product is the system of choice for COOPANS, a very prominent group of customers in Europe, and we welcome NAV Portugal to the alliance.
"
Thales Topsky offers an ergonomic, efficient and field-proven solution for controllers
It is a state of the art system with full silent coordination support and a complete set of Safety Nets, Monitoring Aids and Controller Tools.
It offers advanced functions complying with Single European Sky and SESAR Deployment regulations, such as:
-Controller-Pilot Data Link Communications (CPDLC)
-Support to Free Route operations, with 4D Trajectory Prediction and Medium-Term Conflict Detection (MTCD)
-Extended Arrival Management (AMAN)
Stay connected with us...