Thales develops new innovations for S-76D helicopter
Jan 12. 2011
Thales is already preparing to evolve the TopDeck avionics suite onboard Sikorsky's S-76D helicopter. Following Thales' selection to equip the new version of Sikorsky's S-76® helicopter series, TopDeck became a key technology element of this leading-edge civil helicopter – and it is now set to be an even more powerful tool for pilots.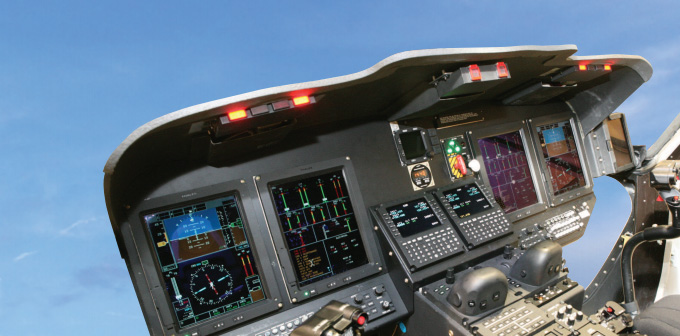 When US-based Sikorsky decided to upgrade its S-76D helicopter, it selected Thales to supply the avionics suite.
Thales's TopDeck solution would offer the new S-76D aircraft increased safety and reliability while reducing both the pilot's workload and vehicle weight.
Initial features
"The initial suite ordered by Sikorsky included a wealth of functions," explains Tristan Grivel, Helicopter Projects Director at Thales Avionics, "including interactive FMS (Flight Management System) and digital map, trackballs and virtual control panels, an automatic flight control system, and a range of sensors (GPS, AHRS [Attitude and Heading Reference Systems], air data and radio altimeter)." TopDeck is due for certification onboard the S-76D at the end of the year. In the meantime, Thales is already preparing its future.
Potential for growth
"One of the key benefits of TopDeck is its in-built capacity to evolve – and Sikorsky is already taking advantage of this," says Tristan Grivel. In September 2010, the company worked with Thales to define four new functionalities that will be integrated into the existing TopDeck suite:
LPV (Localiser Performance with Vertical guidance): a high-precision tool that helps pilots optimise their landing approach. It relies on GPS signals from satellites (WAAS in North America; EGNOS in Europe), offering extremely accurate altitude readings. Unlike ILS (Instrument Landing System), LPV does not require a destination airport to carry equipment, and it therefore enables helicopters to land with an equivalent ILS CAT I safety in rural or non-ILS equipped locations.
ADS-B out (Automatic Dependent Surveillance-Broadcast): cooperative surveillance equipment that allows helicopters to broadcast information about altitude, speed, weather, etc. to ground stations and other aircraft – and thus helps optimise situational awareness and facilitate air traffic control.
XM weather: available exclusively in North America, this service offers pilots interactive graphical weather updates in real time. Pilots can thus plan ahead in case of lightning, high winds or any other adverse conditions.
FFS (Flight Following System): allows operators to know the exact whereabouts of their entire helicopter fleet, and to receive continuous information about each vehicle's situation.
These new features are due for certification in 2012 – and there may be more innovations to come. "Thanks to its flexibility," says Tristan Grivel, "TopDeck is enabling the S-76D helicopters to continually evolve with the need of both Sikorsky and the helicopter market at large."