"There is freedom behind every step": Thales hosts conference by aerobatic pilot Dorine Bourneton
Jul 18. 2022 The Thales Campus in Bordeaux recently had the great honour of welcoming Dorine Bourneton, the world's first female disabled aerobatic pilot, for an inspiring and highly emotional conference.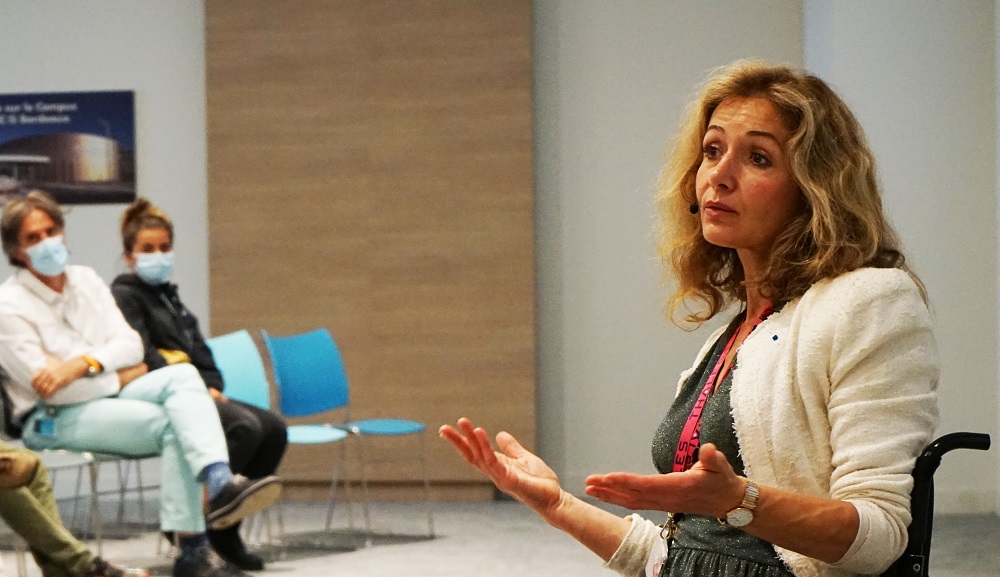 During her talk, she looked back over her journey (or how she went "from a plane crash to aerobatics"), dwelling on emblematic moments such as obtaining her pilot's licence on a specially equipped plane, how she worked to instigate changes in flight regulations and the view of the authorities, and the day she won an aerobatics competition, defeating able-bodied pilots.
Dorine also talked about how she shaped her future which, following her accident, seemed to be all mapped out: "Allowances, couch, TV, I was 16. But I chose to do things differently. My disability forced me to observe, reflect, react. Flying seemed impossible without the use of my feet. But when the impossible occurs, you have a choice. And my choice was "Do I go or not? Couch/TV or freedom?" Because behind every step there is freedom to be seized."
 "We're on our way to Paris Air Show"
She also explained at length how aerobatics was an individual project but one on which she had to mobilize a whole team: "We need engineers, mechanics, instructors, and pilots. I aimed high and was able to go far by setting ambitious goals. Indeed, I promised my team that I was going to take them to Paris Air Show... and the height of this project enabled me to get the whole team on board!"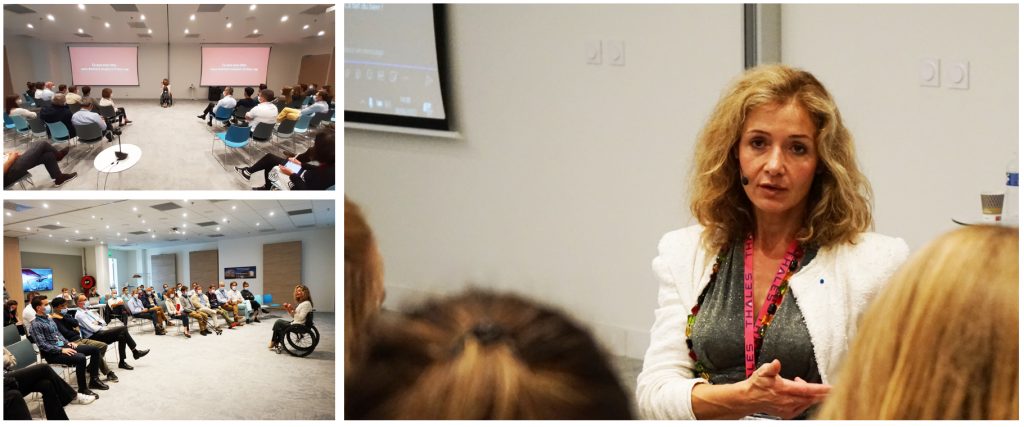 Dorine Bourneton went on to reveal in detail the back story of a performance at Paris Air Show, from the conception of the choreography on the ground, to the team briefing and debriefing before and after the performance, along with the feelings once heading out onto the runway or in the air above the audience of the world's largest air show.
While going through these steps, Dorine underlined some strong messages, waves of inspiration to the employees in the room and viewing remotely, including many Thales employees who are pilots in flying clubs and aerobatics: "Become who you are; what you know how to do, you must do it with exceptional virtuosity... You can't do anything alone, but always as a team, relying on intelligence and know-how. Never forget to thank, celebrate and congratulate your team!"
Finally, the last message of the pilot nicknamed "Mermozette" by her father after the celebrated pilot Jean Mermoz, was about enthusiasm and the will to go forward, recalling that "in the accident I suffered, I had more to lose by losing my joy than my legs."