Thales IFEC activities reshaped to become Thales InFlyt Experience
Apr 14. 2015
During the opening day of the Aircraft Interiors International show in Hamburg, Thales announced the reshaping of its in-flight entertainment and connectivity (IFEC) activities which are now branded as Thales InFlyt Experience. We get the full story from Dominique Giannoni, Thales VP and CEO of Thales InFlyt Experience.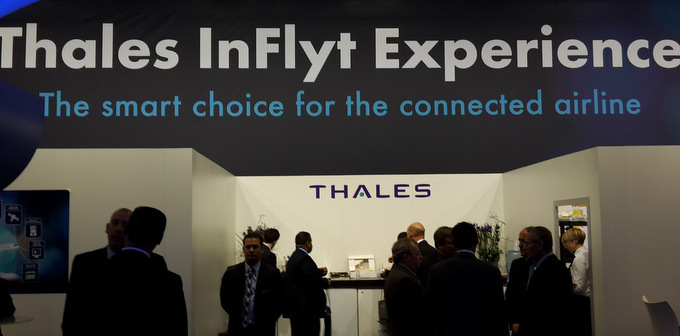 What's the thinking behind this change?

In the global IFE market, growth is stronger than in any other avionics segment. The speed of development in consumer technology is contributing to fast progress in the IFE field, with improved features and higher levels of performance available at lower cost. An estimated 55% of the world's fleet will be equipped with cabin connectivity by 2025. That is why we have decided to reshape our IFEC offering and positioning following the acquisition of LiveTV last year. Thales InFlyt Experience intends to very much capitalise on this growth by focusing on the Passenger and Airline Experience, we enable the airlines to deliver with our solutions through our competitive, state-of-the art, value creating offerings.

What is your portfolio now?

We have one of the most comprehensive portfolio of the industry: it combines state-of-the-art in-seat entertainment systems, wireless content streaming and high performance connectivity services. We also deliver worldwide support services to the Airlines with our teams at 40 major airports. In short, we are able to provide airlines with the choice of hardware, software and services for them to design the experience they want to offer to their passengers. Our portfolio includes:



AVANT, the most advanced Android InFlight Entertainment System, that is already flying on all major Airbus and Boeing aircraft including the A380, A350 XWB and B787.
FlytLIVE, our connectivity and TV portfolio, a host of fast and secure broadband connectivity, connected services and live content management services, already delivering high bandwidth connectivity to passengers on more the 300 aircraft.
FlytCARE, a world-class maintenance and repair service leveraged by Thales's global support and service network.


This portfolio enables us to address all aircraft types and provides solutions for both the linefit and the retrofit market.



Connectivity seems to be your new driver. Is it just the current trend or is it much more than that?

Connectivity is everywhere in our daily life and it is quite logical that its penetration into the airline market is accelerating. This is clearly an area of growth where Thales InFlyt Experience wants to play a leading role. Connectivity enables a new kind of passenger experience, "always on", whether it is for business or for personal/social purposes. It also allows us to deliver high value, real time content through our IP Streaming TV solutions, with the following approach "The content you want, when you want it". We believe this will create value for the airline in the way they engage with their passengers, possibly creating revenue generation opportunities. In addition, the airlines will benefit from this high bandwidth connection, through real time monitoring of the aircraft systems, communication with the crew and access to passenger usage statistics. At Thales InFlyt Experience, we are offering solutions of uncompromised performances by partnering with leading satellite providers, to be "The smart choice for the connected airline".

What are your competitive advantages?

We are fully focused on providing the highest level of customer satisfaction: our team strives to offer the best services 24/7. This is part of the Experience that the airline has with us, from the early design phase through to in-service operations: we deliver reliable and easy to maintain systems, capable of evolving at a competitive price, designed to maximize return on investment.

For airlines, our portfolio creates fully integrated and optimized solutions, driving new positioning and differentiation as well as providing commercial returns in line with an airline's market positioning. For passengers, our systems make their flight more immersive, personal and customizable. They experience a system that behaves like a tablet or PC, with the same High Definition resolution found on modern televisions, multi-touchscreens, and a connectivity core that gives access to personal social media and communications, online shopping through secure payment systems, access to personal entertainment, live television, and business activities. In addition, we draw upon Thales's heritage as leaders in civil aerospace: we know the airline market as no other company, from nose to tail. We work closely with our colleagues in the Avionics Global Business Unit to better understand the overall expectations of the airlines when it comes to operations. In addition, we can count on Thales expertise and resources in the field of big data management and cyber-security – 80% of the world's financial transactions are secured by Thales: in the connected environment we can leverage technologies to ensure IFE systems are secure both for airline flight operations management and for personal data use of passengers.

What is new on your stand this year?

On our stand it's all about the EXPERIENCE from the passenger and airline points of view. Keeping it simple, on one side of the booth our focus is on the Passenger and on the other, the Airline. It illustrates the essence of our new branding; Thales InFlyt Experience is the smart choice for the connected airline.

Here is what's new for the PASSENGER EXPERIENCE:


New HD and Ultra HD in-seat display that provide vivid imagery and intuitive interaction.
New HD Hand held media unit that allows passenger to stream video and audio entertainment for truly a second screen experience.
New IPTV capability that supports both on-demand and near real time programs – such as sports and news – Anywhere in the world.
New Near Field Communications (NFC) technology that supports both tap and go payment and personalization capabilities much like done today on the ground.
New Personal Device Pairing to the IFE system such that the passenger can use their own smart device to control their in-seat system experience.
Improved Immersive seat experience that seats you into an elaborate pod seat and surrounds you with a true personalized multi-media experience.
Future concepts – We are big on innovation and will share some never before seen technologies in the economy seatback.


For the AIRLINE EXPERIENCE – What's new!


The introduction of FlytLIVE – A suite of flexible connectivity regional and global solutions and connected services.
New and improved tools – Our aim is to enable our airline customers to access tools that make their job easiest. These tools include:
LiveWorks – Wireless Portal Customization tool – make fast changes to ads, sponsorship and on board retail pricing.
AVANT Apps Portal – Convenient collaborative on-line service that enables an airline to plan their future line-up of entertainment and information on board plans.
AVANT Software Developers Kit – For customers with AVANT, this amazing tool facilitates the integration of Android applications without any investment in test hardware.
AVANT SERVO – Is an interactive maintenance and logistics management system that gives both Thales and the customer a view of all repair and spare actions by aircraft tail number – Real time.
TopWINGS from Thales Avionics Support Worldwide business unit– Cockpit communications featuring e-logs, e-weather and more with focus on Airline Operation Services from a pilot perspective.
Data Management – Payment processing and Data Analytics tools that segway our offering into a completely new dimension that has tremendous potential for airline intelligence.


Overall, our demo presentation in 2015 is the latest view of our offering to the market.  With connectivity now a key strength, our aperture will widen to a bigger view allowing Thales to truly lead through its core competencies in communications and data security.  We are not just IFE.

What about the future?

The Inflight Entertainment and Connectivity domain is constantly evolving: we will continue to evolve our portfolio to keep it at the highest industry level, working closely with partners to deliver the best solutions and services to our airline customers. We are developing new services to create value for the airlines and its passengers benefiting from the arrival of connectivity on most of the aircraft. For the passenger, tomorrow's air travel will be more entertaining, more personalized, and also, if you wish, more productive. For the airline, it will mean more efficiency in operations, more revenue-generation opportunity, more ROI.

Thales InFlyt Experience is at the forefront of this revolution.



Thales InFlyt Experience at a glance



More than 1,700 aircraft across 75 airlines equipped
More than 750,000 passengers use Thales IFE every day
The first in the market to offer an Android-based 4th generation system
The highest bandwidth connectivity solution in the world
What Thales inFlyt Experience provides…
To passengers:
Access any content: live TV, online streaming, etc.
Personal communications platforms: e.g. Skype, social networking, or email/phone
Online shopping
To airlines:
Crew-generated data for preventative maintenance and tracking
Content management and distribution streamlining
Commercialization of services based on passenger profiling, and on-board media usage