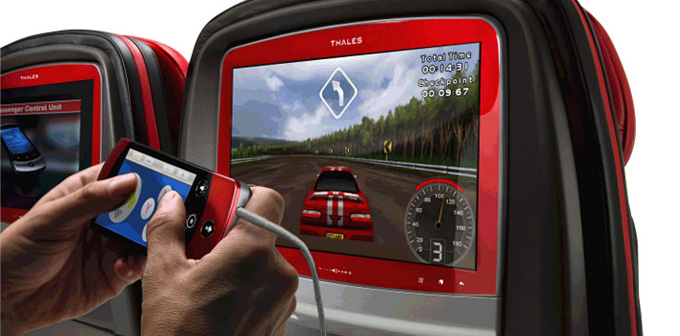 The new system, unveiled at the Airline Passenger Experience Association's (APEX) exhibition in September, is scheduled to roll out in 2013 on advanced aircraft platforms.
Thales designed the new TopSeries to be even lighter than previous versions. Its new modular design is packed with greater capabilities and is also more serviceable, which will in turn reduce ownership costs.
The new system monitors are available in three different configurations – monitor only, monitor with personal electronic device ports, and monitor with ports and credit card reader.
More leg room
Its unique architecture features all intelligence in the display, thereby eliminating the seat box for even greater passenger space and comfort. Displays have high-capacity local storage allowing for maximum system reliability.
The new TopSeries is targeted to weigh 30 per cent less than earlier Thales systems, with power savings for airlines also reaching 30 per cent.
"For airlines this new design will mean not only more reliability and operational savings, but an even better in-flight experience for their passengers," said Alan Pellegrini Vice President and General Manager of Thales's In-flight Entertainment business.
Handheld innovation
The next generation TopSeries has also been enhanced with a completely new category of handheld touch screen seat controller, bringing consumer trends to the passenger's seat. This Touch Passenger Media Unit, recently the winner of the 2010 Avion Award for Best in Technology, features a 3.8-inch touch screen LCD that puts seat display controls, and a host of potential applications, right at passengers' fingertips.
"The combination of the new sleek display and the handheld passenger media unit, with its touch screen, is guaranteed to transform the travel experience for passengers," Pelligrini said.
Touch Passenger Media Unit takes home award
The Airline Passenger Experience Association (APEX) this year selected the Thales Touch Passenger Media Unit for the Avion Award for Best Achievement in Technology. Thales is very proud that the hard work and innovation of its team members was recognised with this award, presented at a gala event during the APEX Annual Conference & Exhibition.