Thales InFlyt Experience launches new portal for web-based IFE applications
Oct 24. 2016
The Thales InFlyt Experience Application Portal provides a true differentiator for airlines to obtain trending consumer applications and games faster and in a more economical way. The airlines will access a wider range of applications sourced from many developers and be able to submit their own developed applications for use on their AVANT-equipped fleet.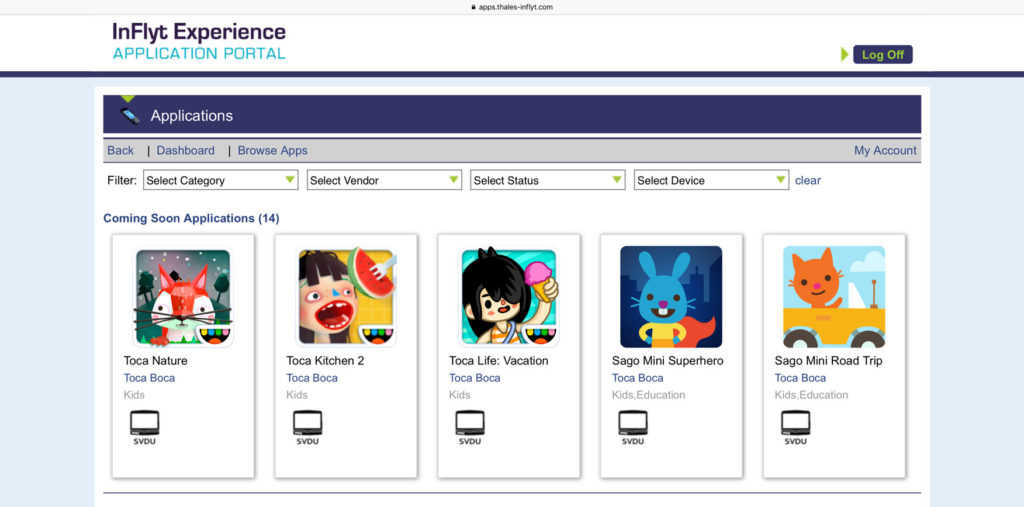 The Thales InFlyt Experience Application Portal is a unique secure, web-based customer solution that allows airlines and media managers to select, review, and bring onboard applications and games for their Thales AVANT programs. The portal lets non-IFE developers easily port their apps to the AVANT system and enables airlines to directly purchase these pre-tested and fully-certified applications and games directly from the portal. That means airlines will be able to frequently refresh the content on board without needing a major software update.

Following the latest trends is a challenge!

To keep passengers entertained, airlines have to enhance their offering with the most trending applications and games on their IFE systems, knowing that they have to face a tremendous increase in the number of applications and a rapid change in those that are most in-demand. As of 2015, the average estimated time to maturity for gaming applications spanned roughly four months from initial release dates, i.e. 60% less time less than the previous year!

Traditionally, onboard games/applications may take up to a year from license acquisition to certification on an IFE platform, integration to airline programs, and ultimately boarding the aircraft. Due to this long process, there is a large gap between what is released to the market and the current content offering onboard. Thanks to the Thales Application Portal, airlines will be able to offer their passengers their favorite applications on air.

Just browse, select, order, download

The registered airline members can simply sign into the Application Portal and browse through certified content available for purchase, select and complete the order. The airline program team will receive a notification to easily download the relevant APK (Android Application Package) for integration into the systems. With the Thales InFlyt Experience Application Portal, airlines are able to strengthen their passenger experience and increase their ancillary revenues.
Stay connected with us...