Thales Launches Expanded Inflight Entertainment Portfolio with CORE and PRESTIGE IFE Solutions
Apr 10. 2018 Thales announced the expansion of its inflight entertainment portfolio offering a full spectrum of solutions and services to maximize passenger satisfaction, loyalty and airline revenue. To complement the state-of-the-art and high performing AVANT currently flying on more than 30 world class airlines; Thales introduces CORE and PRESTIGE inflight entertainment.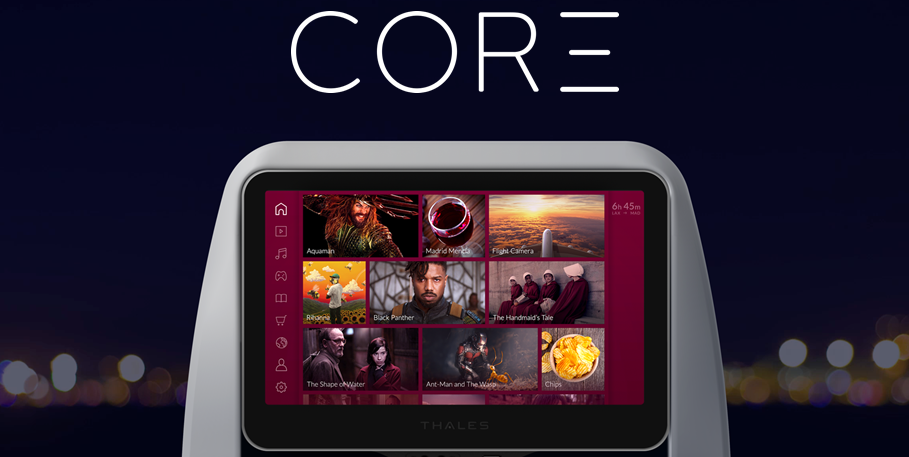 Thales's CORE inflight entertainment solution is designed to achieve best value and most competitive cost of ownership. CORE comes with all the essentials. It is delivered with a set of key applications and digital services to meet airline and passenger expectations

CORE's intuitive passenger interface, SELECT, is designed with the latest User Experience (UX) technology offering a modern, simple and uncompromised user experience.

PRESTIGE IFE offers a multi-dimensional and personalized experience commissioned by the airline and master crafted to elevate their brand with a unique, SIGNATURE user interface. The system will feature ultra HD (4K) displays bringing a new brilliance to the passenger experience.

The truly transformative element of this new system is the exceptional experience achieved through a robust co-innovation process with each airline customer, and by leveraging industry partnerships, Thales Digital Factories and local innovation hubs around the world.

"It is with great pleasure that Thales introduces CORE and PRESTIGE IFE at Aircraft Interiors Expo. The Thales IFE portfolio now offers a full spectrum of solutions for each market segment, enhancing passenger satisfaction, brand loyalty and airline revenue. With CORE, AVANT and PRESTIGE, all powered by our digital platform InFlyt 360, our airline customers can choose a Thales IFE solution that truly reflects their brand promise," says Dominique Giannoni, CEO Thales InFlyt Experience.

Thales's complete IFE portfolio is powered by its InFlyt360 digital platform, incorporating the latest in Big Data technologies such as machine learning and matching algorithms to continuously optimize the experience for passengers and airlines.
Stay connected with us...