Thales to modernise Zambia's air traffic control with latest TopSky - ATC solution
Oct 10. 2023 Following the contract signed in 2014 with Zambia Airports Corporation Limited (ZACL), Thales is modernising the ATC (air traffic control) centres at Lusaka and Livingstone international airports in Zambia. Thales is expanding its TopSky – ATC air traffic control automation solution with two new applications. The first is Controller Pilot Data Link Communications (CPDLC), which allows clear and secure dialogue between pilots and controllers. The second is Automatic Dependent Surveillance – Contract (ADS-C), which automatically transmits aircraft flight status reports to Air Traffic Management systems on the ground.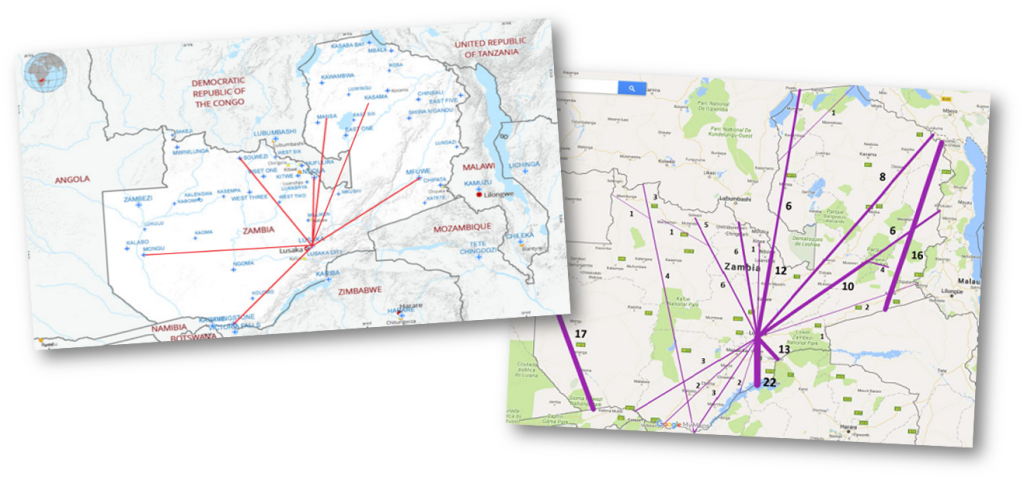 Illustration: Domestic routes (source: ZACL 2021 annual report) / Main flows for En Route
Thales is working with Zambia Airports Corporation Limited to modernise the TopSky – ATC systems at the ATC centres at Kenneth Kaunda International Airport, Lusaka and Harry Mwanga Nkumbula International Airport, Livingstone.
Thanks to the Datalink CPDLC and ADS-C solutions, Zambia's ATC centres and pilots will be able to communicate via data messages instead of conventional voice radio. This upgrade will enhance flight safety by mitigating the risk of degraded radio communications. VHF channels will still be available as the primary mode of communication in the Flight Information Region (FIR).

To ensure safe navigation in their airspace, air traffic control officers (ATCOs) need to know the exact position of an aircraft before and during flight. Flight plans provide an initial overview of the pilot's intentions, but complete situational awareness is only possible thanks to a network of connected sensors that provide ATCOs with real-time knowledge. All this data enables flights to be "deconflicted", thereby increasing air safety.
Innovative and intutive access, faster and better decisions
Thales TopSky – ATC is an air traffic control automation solution designed to control en route, approach and oceanic traffic, both in civil and military environments. TopSky – ATC provides air traffic controllers and technicians with innovative and intuitive access to flight information, accurate real-time tracking for faster and better decisions, efficient tools for enhanced detection and resolution of conflicts, integrated sequencing and optimisation capabilities and a robust, reliable, easy-to-maintain system.
"We would like to thank ZACL for their continued trust and are proud to be able to support them once again in improving air navigation safety by integrating two state-of-the-art functions into our TopSky – ATC system, which are perfectly suited to today's needs. Together, Thales and ZACL are delivering the safer air travel of tomorrow." - Cyril Einaudi, Vice President Global Turnkey segment, Thales.
Over the years, Thales has become a major player in Air Traffic Management in Africa, with 80% of the continent's control centres equipped with TopSky – ATC. This solution is used by over 16,000 controllers worldwide. More than 80 Thales ATC radars are in service in Africa today.
About ZACL (www.zacl.co.zm)
Zambia Airports Corporation Limited (ZACL) is a parastatal company which is 100% owned by the Government of the Republic of Zambia established in 1989 to develop, manage and operate airport and air navigation infrastructure to international standards throughout the country.