Thales's first A400M Flat Panel Flight Training Device provides additional training capability to Airbus Military in Seville
Dec 03. 2013
The first A400M Flat Panel Flight Training Device designed and built by Thales for Airbus Military has been contributing to the training of air crews at the Airbus Military International Training Centre in Seville since October.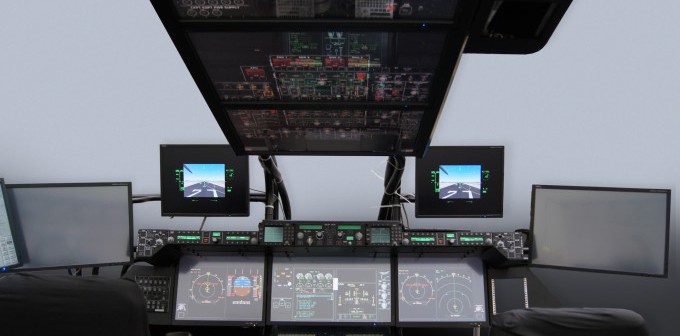 The training device allows air crews to familiarise themselves with the A400M cockpit environment and with the aircraft systems'
functionalities and procedures, as well as flight laws. It represents the aircraft cockpit using a combination of simulated or actual aircraft hardware with high-quality interactive graphical panels displayed on LCD touch screens.
The Flat Panel Flight Training Device provides procedural training to flight crews as part of type certification, tactical training and mission rehearsal, during which the trainee is briefed about normal and abnormal procedures under a step-by-step flow, before carrying out the procedure in the real cockpit environment.
The device is particularly useful for instructional use as it provides overthe- shoulder training in a classroom-style environment. Its layout makes it easy for an instructor to physically demonstrate or identify equipment or operator issues.
Key points
Additional training capability at Airbus Seville to help air crews familiarise themselves with the A400M cockpit environment and systems.
This device and the Full Flight Simulator delivered earlier in the year are good examples of the tailored family of products we offer to our customers