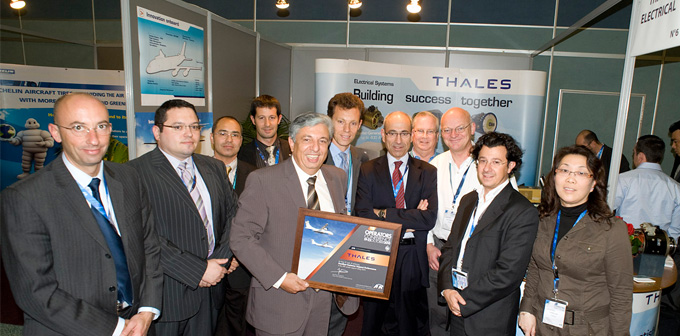 In the recent ATR ranking - which measures how satisfied airlines are with the service they get from the aircraft manufacturer's suppliers - repair and distribution stood out among Thales's major strengths.
"We have developed a quick-reacting global network and are constantly evolving a wide range of services to adapt to the changing needs of our clients," said Daniel Malka, head of Avionics Services Worldwide at Thales.
Top-class Avionics
Thales's Avionics business was ranked third for after-sale activities, with its Electrical Generation activity placing fourth. Thales Avionics received an award for making it to the top three.
Earlier this year, the Airbus ranking - which measured airline satisfaction with the service provided by the company's tier-one suppliers in 2009 – put Thales's Avionics activities in eighth place. Thales has performed consistently well in these rankings, holding a top ten position for the fourth consecutive year.
"We are constantly innovating and streamlining our solutions so that airlines can focus on getting their job done efficiently, satisfying their own customers and keeping costs down," Malka said.
ATR plans to continue carrying out its ranking, which is based solely on the perception of airlines, every two years. Airbus's ranking is annual and measures factors related to products, services and operational costs. Each supplier is marked on performance and given a general ranking.
TopWings takes flight
Thales is unveiling several new service offerings, including the new customized solution TopWings™. Drawing on an Electronic Flight Bag device located in the cockpit, TopWings™ allows for the exchange of data between the aircraft and ground operations. It includes various applications designed to increase the efficiency of airline operations while reducing pilot workload and optimising costs. As part of the TopWings™ solution, Thales integrates the most suitable hardware and software for satisfying various airline requirements.
Brussels Airlines recently selected the Thales TopWings solution for its 47-strong fleet of Airbus Single Aisle, Long Range and Avro aircraft.