The behind-the-scenes story of Thales's Helmet-Mounted Sights & Displays
Jun 29. 2021 The Helmet-Mounted Sights & Displays manufactured by Thales for helicopter and fighter aircraft pilots are among the Group's flagship products. On the assembly line in Bordeaux, south-western France, a combination of cutting-edge expertise and pragmatic processes is a case study in effective industrial methods.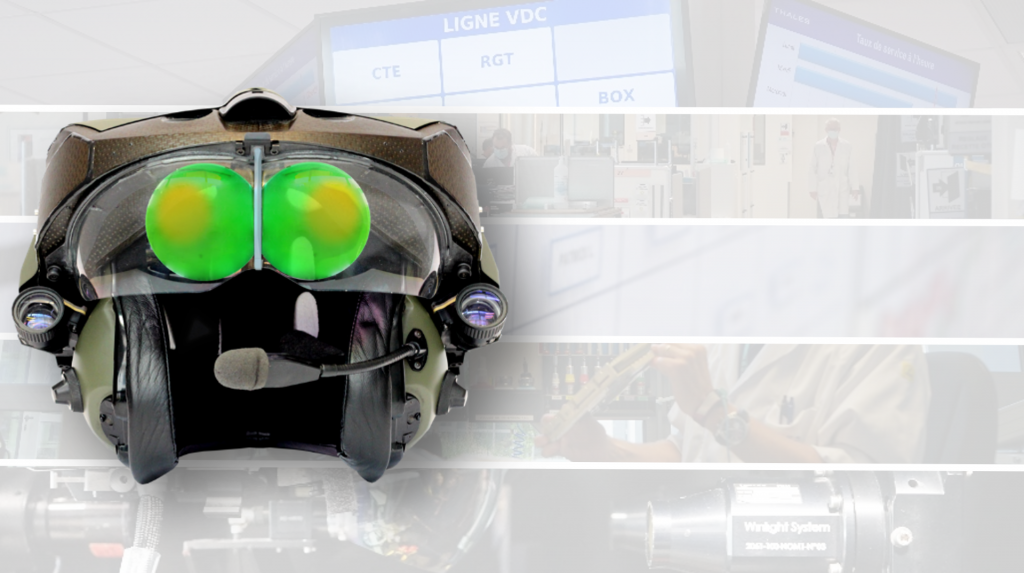 Thales's Helmet-Mounted Sight & Display assembly line manufactures various versions of the TopOwl helicopter pilot binocular helmet sight (the legacy system, an Optimized variant for the US forces, and now the full Digital Display version) and the Scorpion, for fighter aircraft pilots. To date, 1,700 systems have been manufactured and delivered.
Christophe Coupeaud, who heads up the assembly line, points out that although the helmet is a complex system, its three main functions are easy to understand: "A helmet sight first displays flight information in front of the pilot's eyes. Secondly, it allows them to guide mission and combat systems with head movements. Finally, it enables the pilot to see at night. For each of these functions, the new-generation TopOwl DD (Digital Display) offers a real advantage for the user thanks to the quality of its digital display, replacing the previous analog display. Pilots will now benefit from a high definition image in front of their eyes!"

Left-right: the full TopOwl system, Scorpion, US Optimized TopOwl variant.
Innovative and ultra-precise modeling techniques and technologies are used to tailor the inner shell of the helmet to the exact shape and size of the head of each individual pilot, and also to fine-tune the optical capabilities so they are in perfect alignment with the pilot's line of sight and the external environment. However, the systems, which are used by the armed forces of 15 different countries, are much more than just a helmet and its display module.
Christophe says, "The TopOwl system does indeed include the display system fixed to the protective helmet for optimal comfort, positioning and balance. But it also comprises various subsets installed in the aircraft and that are associated with the head-worn device, such as the onboard computer, the movement detection module and the Command Panel."
Versatility, autonomy and Lean methods
The systems are assembled on the Bordeaux line by a 30-strong team that brings together various trades and specialties, encompassing fields as varied as electronics, opto-mechanics, logistics, industrial methods, quality, Lean methodology, and production team management. The digitization of processes and real-time monitoring is taking root, in particular in order to transmit data to other players working upstream or downstream around the helmet displays.
But Christophe points out that they also use very basic visual management methods: "Miscellaneous tools, such as our punctuality monitoring table, are simply based around magnetic boards with hand-written entries and coloured magnetic dots. And our production sequencing has been revised and optimized to enable smooth continuous levelled pulled flow processes, applying many of the principles of Lean production."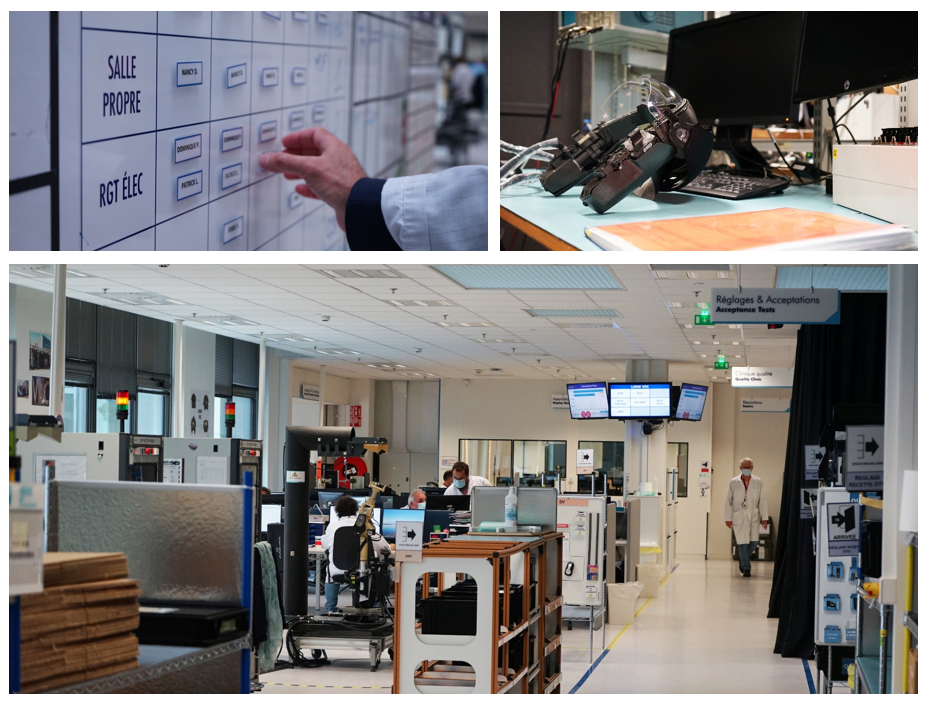 Above: on the assembly line in Bordeaux. 
Christophe also emphasizes how much the team's human values allow everyone to flourish, feel confident, and work towards shared common goals: "Employee empowerment is a key criterion. Here too we have set up a visual management chart that allows the production team to organize itself autonomously, assigning workstations according to requirements and each person's presence and skills."
Good results have been forthcoming, with higher-than-ever levels of customer-focused performance in terms of quality and on-time delivery that can be attributed to the organization, rigour, skillsets, management support and the resources that have been implemented. But Christophe Coupeaud underlines the contributions made by the team themselves. "This high level of industrial maturity, which enables us to be present on a daily basis with regard to Thales's commitments to its customers, is above all due to the behaviour, attitude and proactivity of our team, and this is something which I would like to salute and is a tremendous source of pride!"