TopMax wearable HUD certification and distribution agreement between StandardAero and Thales
Sep 27. 2019 StandardAero and Thales have signed a long-term partnership agreement for the certification and distribution of the Thales TopMax wearable Head-Up Display (HUD) for use in business aviation aircraft.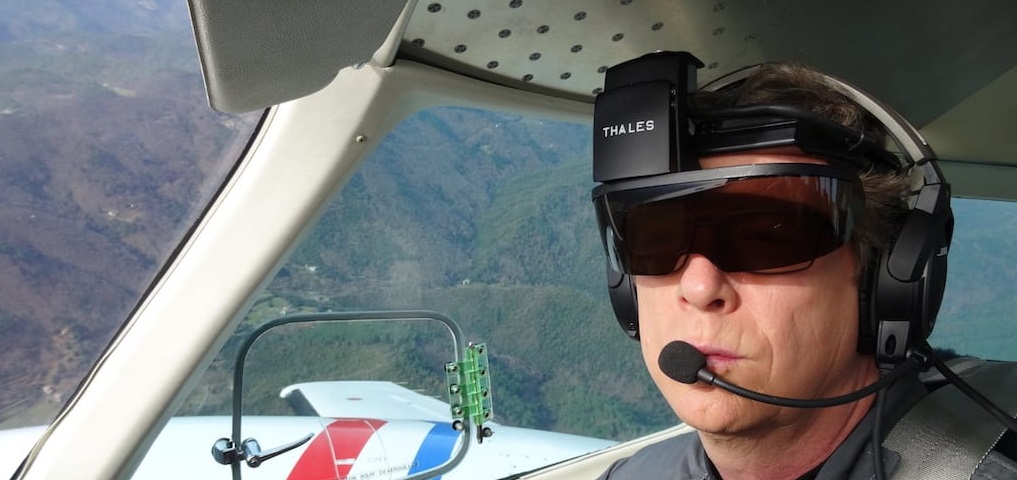 The TopMax wearable HUD is an industry first, resulting from Thales's decades-long experience in military Helmet Mounted Display Systems (HMDS) and civilian Head-Up Displays (HUD). It is the only wearable HUD system whose ergonomics and functionalities are specifically adapted to the needs of civil pilots, whose missions are longer and therefore need a light weight wearable HUD.
At a glance, pilots with TopMax have instant and intuitive access to critical flight information for navigation and safety. TopMax is unique in the industry as its Synthetic Vision System (SVS) provides a full color, unlimited 360° field-of-regard. The SVS system also allows for off-axis symbology including cross wind, synthetic runway, extended navigational centerline and 3D traffic display for advanced situational awareness and safety.
Utilizing its in-house Organizational Delegation Authorization (ODA), StandardAero anticipates the approval of several Supplemental Type Certificates (STCs) for TopMax systems in multiple business aviation aircraft. Once certified, Thales and StandardAero will collaborate in delivering this new technology to market that is easily installed for minimal aircraft downtime.
"Thanks to this partnership, business jet operators now have access to a worldwide network and a one-stop shop to have Thales TopMax installed on their aircraft", comments Marc Drobny, President of StandardAero Business Aviation.
"Thales TopMax will revolutionize how pilots fly business aircraft," said Michel Grenier head of Avionics in North America for Thales. "The system will offer identical operational benefits for both take-off and landing as current Head-Up Displays, along with numerous other operational capabilities."

Top Max offers an ideal combination of operational, technical and life-cycle cost benefits for aircraft owners and operators. For pilots, the lightweight design and simplicity of use make it an ideal system for advanced avionics interfacing. TopMax provides many benefits to pilots, including operational credits for:
Manual eyes-out CAT II landing
ILS Special Authorization CAT I (SA CAT I) / Lower than standard CAT I (LTS CAT I)
Low Visibility for Take-Off (LVTO)
Enhanced Flight Vision System (EFVS)
StandardAero and Thales will be providing TopMax demos and hardware displays at company exhibits during the annual 2019 NBAA Business Aviation Convention & Exhibition (NBAA-BACE), being held October 22-24 at the Las Vegas Convention Center.
See also: www.thalesgroup.com/topmax