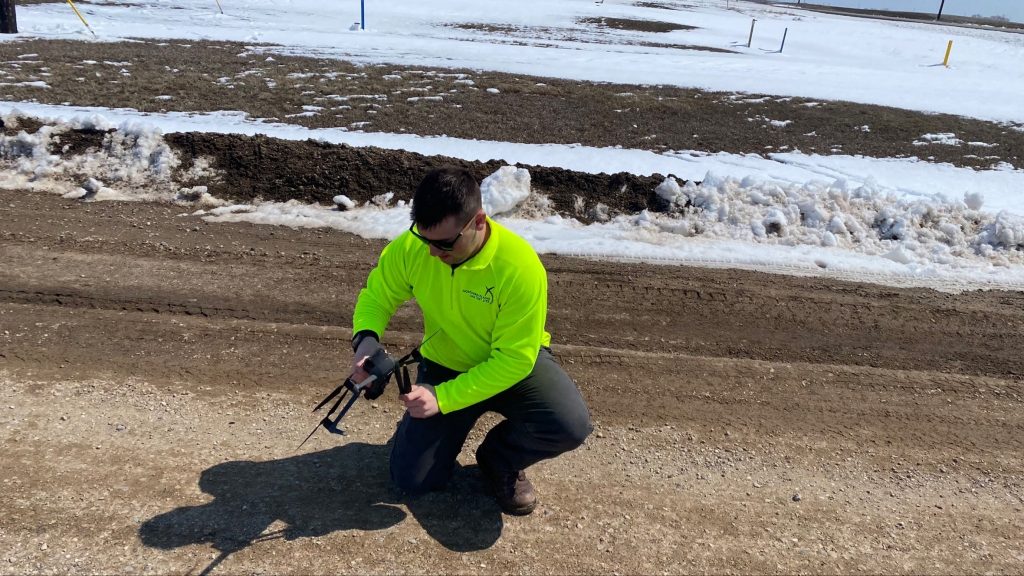 In April 2022, severe weather brought blizzard conditions, heavy snow and ice to western North Dakota, damaging utility infrastructure and leaving citizens without power.
Leveraging its investment in Vantis, the state mobilized drones, also called UAS, to survey electrical infrastructure in rural areas, locate and assess the damage, and help prioritize resources for repairs and recovery.
In just 2 days, the drones flew over 80 miles (130km) under Federal Aviation Administration (FAA) waiver and took high-resolution photos of 1700 power line poles throughout the region, allowing inspectors to identify about 150 needing repair. The drones were particularly adept at getting close enough to power lines to check connecting and accessing locations that were impassible for vehicles, saving critical time by not having to send a repair crew out to a pole that didn't need one. 
The drone operators tracked manned aircraft traffic in the area both visually and via a surveillance service provided by the Vantis system. As aircraft flew overhead, the drone operators were able to maintain well clear and ongoing situational awareness.
The drones, operated by Northern Plains UAS Test Site and ISight Drone Services, assisted members of the Mountrail-Williams Electric Cooperative. The UAS flights were enabled through special waivers to current FAA regulations.
Soon Vantis will support beyond-visual-line-of-sight (BVLOS) drone flights. Operating BVLOS would mean covering an estimated 40 miles (64km) per inspection, instead of 2-3 miles (3.5-5km). That means more inspections, more coverage, faster response time, with fewer resources. The impact is significant, tangible, and critical for North Dakota communities.
North Dakota Governor Doug Burgum said: "North Dakotans are known for their innovation and resilience. In difficult times like this, our citizens and neighbors come together to find new solutions to challenging problems. We're leveraging the investment the state has made in this UAS infrastructure to help workers identify damage and repair ground-based infrastructure. Utilizing our strength in aviation will help citizens and communities on the ground."
About Vantis
The Northern Plains UAS Test Site, a North Dakota state agency, has partnered with Thales USA to develop and implement Vantis, a UAS system that will allow UAS pilots to command and control (C2) the UAS and see and avoid other aircraft, even when the UAS is flying beyond visual line of sight (BVLOS) of the pilot.
Vantis consists of ground-based aviation infrastructure, like that used in traditional aviation. Vantis offers shared infrastructure for multiple users, which significantly lowers the barrier of entry to BVLOS flights.
Thales is the systems integrator, bringing together a safe, secure, and seamless solution that incorporates best-in-class partner technologies both local to North Dakota and beyond, including Appareo; Botlink; Javiation, a Woolpert company; Overland Aviation; uAvionix; Terma; and others.
Thales is deploying communications and surveillance infrastructure in phases across the state. This infrastructure is supported by a Mission and Network Operations Center (MNOC) that uses the State of North Dakota's fiber optic telecommunications network along with robust digital services deployed on cloud-based infrastructure to support operational resilience.
Today, Vantis supports visual-line-of-sight (VLOS) operations with services for manned traffic monitoring and operational testing for initial BVLOS flights. At full maturity, Vantis will enable the safe, secure integration of drone operations across North Dakota in a manner that is scalable in the national airspace system.
North Dakota and Beyond
UAS integration is vitally important, and not only in times of difficulty.
Vantis provides a model and framework for other states on how to make it simple and economical to perform safe, repeatable, and scalable commercial UAS operations. Just as the FAA's Low-Altitude Authorization & Notification Capability (LAANC) provided the digital infrastructure to scale VLOS flights, we now know how to deploy the right physical and virtual infrastructure to support BVLOS operations quickly and at scale.
The immediate impact will be for North Dakota-specific industries such as oil and gas, utilities, rail and road, agriculture, medical services and retail delivery. But Vantis has applications for advanced air mobility (AAM) and the national airspace system. We are working with the FAA to achieve BVLOS flights that are scalable, repeatable, economically viable, and harmonized with the existing airspace structure.
Want to learn more? Get in touch.