Massimiliano Ferla, Navigation Aids and Non-Radar Surveillance PLM, presented various surveillance technologies and its vision to increase global visibility and monitoring of the airspace to provide the air traffic controller with a reliable and accurate display of the air situation.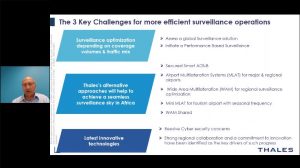 A short resume of the webinar is as follows:
"Through its new generation of solutions and the suggested applications for African regions, Thales presents typical surveillance for approach in difficult environments (mountains) or Precision Runway Monitor applications combined with the capability to design the best Space Based Surveillance principles to achieve high performances while optimizing the cost of the infrastructure and incrementing overall system resilience.
Integrated Cyber protection within WAM applications will also present one of the most relevant applications to cover specific areas such as tourism airports where the operations require a surveillance!"
The replay is available for you here.