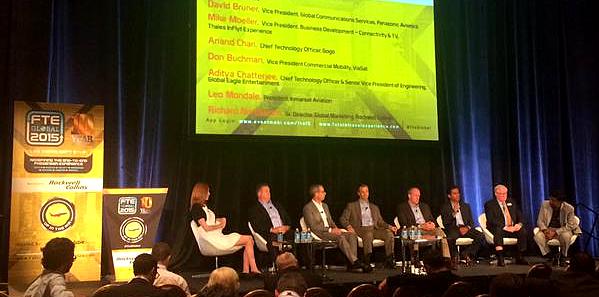 Mike Moeller was a member of the panel 'Cabin connectivity unleashed: How the internet of everything will change airlines and aviation forever' led by famous blogger, founder & editor of Runway Girl Network Mary Kirby.

How did Thales become involved in the conference?

As an industry leader, Thales was invited to participate on the panel discussing connectivity and passenger experience.

Why was it important for Thales to participate at the FTE Global 2015 conference?

There are a few conferences throughout the year focusing on connectivity. As a market leader in inflight entertainment and connectivity, I think it is important for Thales to be part of the discussions, share knowledge and provide thought leadership.

What did you learn from this conference that will benefit Thales?

My main conference takeaway was to keep working on how we offer passengers the best travel experience on board the aircraft while providing the optimum overall solution for the airline. This means providing the right infrastructures and operational benefits to achieve this objective.

What major trends do you see for the connectivity industry based on discussions at the conference?

I think a major trend we'll see in theindustry - from what was discussed at the conference – is more research and development by the inflight connectivity providers in order to offer the best experience to the passengers. I think airlines will also be more focused on the experience they provide passengers, resulting in the two industries working closely together.. At Thales we continue to advance in that direction with the acquisition of LiveTV about a year ago and the ongoing development of our portfolio. A side note is that the Thales product on JetBlue has created something known as the "JetBlue experience" which is changing the perception of what the passenger experience should be and is pushing the industry to move forward. It has raised the bar of what is now expected in term of high quality internet for passengers.

What makes Thales a key player in the connectivity market?

I think the main thing is to continuously develop the right technology and the right infrastructure. Thales leverages its market expertise as a leader in civil aerospace to provide solutions that improves both the passenger experience and airline operations. Currently only 5% of commercial aircraft are connected! That represents great opportunities for the future.

How do you think the internet is going to change the passenger experience?

Internet on board of the aircraft will totally change the passenger's experience. Everything you are able to do on the ground in your home, you will be able to do while flying in the sky. You will be able to access your email, social networking, surf online and even stream media. You will be connected wherever you are – anywhere and anytime.

Find us on Twitter @thales_avionics, on our official Youtube channel Onboard TV and on LinkedIn Thales Aerospace.