Avionics in a three-dimensional age
Feb 25. 2015
The technology developed by the Professor Calculus in Tintin and the Lake to the sharks has progressed and the fiction has become reality. Appearing at the beginning of the 21st century, it is widely used in the industry. Thales uses it regularly in its development processes.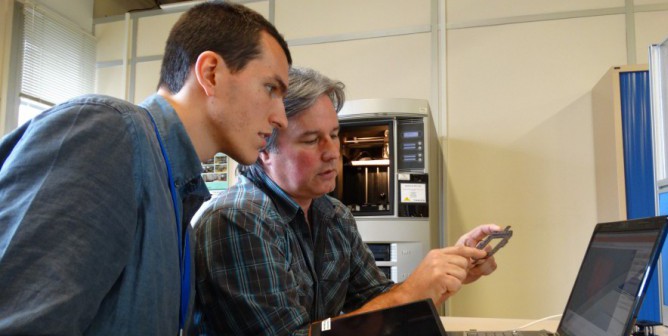 3D printing is of great value for several reasons. The speed of manufacturing is the main benefit as parts can be produced in just a few hours. "As the production is conducted in-house, the possibilities for creation and redesign remain easy to manage. What's more it enables us to have concrete objects to support our customer presentations" underlines Marc Eccher, expert in advanced systems for the Avionics activities at Thales.
"If several processes are used for manufacturing, Thales principally favours printing with powder. It is reusable, reduces costs and limits the ecological impact," continues Marc Eccher. Additionally, this technique enables the production of parts that would be impossible to obtain by conventional means. It requires neither molds nor equipment, resulting in reduced development time.
3D impression like mobile phones
"Before mobile phones were invented, everybody lived without them. Today it is unthinkable. We are experiencing the same phenomenon with our 3D printer," explains Christophe Coupeaud, in charge of the engineering department at the Group's Le Haillan site.
In charge of the development of optomecanical head-up visors, head-up and head-down displays as well as Electronic Flight Bag (EFB) tablets, he praises the benefits of 3D printing. "Thanks to this new technology we can very quickly manufacture physical models of products which we can then present to our customers and redesign again if needed. The risks are identified well in advance which considerably reduces development and production time".
As an example, it is possible now to manufacture a product within two weeks. With traditional processes of modeling it would have taken around three to four months to obtain the same result.
Of course, this type of object is not yet compliant with the avionics environment, but it does serve for demonstrators. Industrial production requires skills and industrial facilities which are adapted to meet the very strong quality requirements of the aeronautical domain.
But for Christophe Coupeaud, "with the fast prototyping, we are in the middle of a real industrial revolution. Never would we have imagined that it would be so profitable in terms of financial gains and time savings. We make use of our printer every day, and we also receive requests to help other Thales entities."
"The 3D printing market is growing quickly. In 2014 the worldwide market represented 3 billion dollars with an annual growth of about 30 %", continues Yannick Cadoret, mechanical expert at Thales working for this project. In this highly attractive market, the printing of whole buildings in real scale has already been proposed, so why not imagine one day a cockpit stemming entirely from 3D printing?
Watch a short video about the 3D printing  know-how of the Thales site in Le Haillan, Bordeaux region  (in French).