Connectivity by Thales: An "à la carte" portfolio
Jun 24. 2015
Connectivity represents a fundamental change in the aerospace market. From the next-generation cockpit for the i-generation pilot to air/ground smart connections between aircraft and air traffic control systems, airline operations centres and even internet for in-flight entertainment, connectivity is transforming air transport as we've known it over the last few decades. Christophe Picco, senior marketing manager of Thales avionics activities, explains.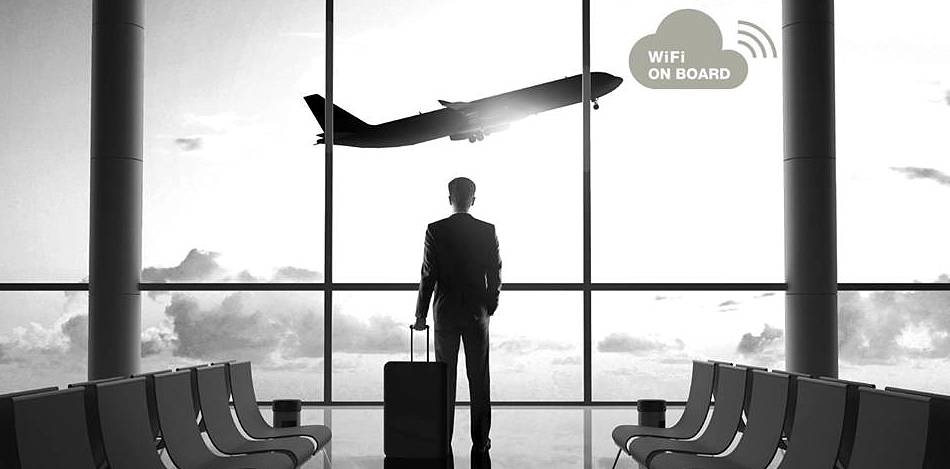 Why does connectivity become a key in today's air transport?

Connectivity is transforming air transport. A recent survey conducted by Carlson Wagonlit Travel measured triggers of stress and found that a lack of internet connection was the second biggest concern for business travellers, second only to the loss of luggage. It is estimated that by 2025, 70% of the world's fleet will be equipped with connectivity.
Thales is in the right place to offer connectivity services to meet these needs: As leitmotiv, "Simply connected" is relevant to all parts of Thales's approach and enables us to service airlines, passengers, airports, etc. with the highest levels of connectivity.
We are the only player on the market with expertise in Avionics, In-Flight Entertainment, Maintenance services, Multi-Modal Transportation offerings, Air Traffic Management systems, Cybersecurity, in satellite systems required to understand and to develop this new eco-system.
Our technology and expertise in all of these areas means that we can provide an offering to improve both the passenger experience and airline operations, with an overarching objective of helping our customers in generating revenue and in making their airline operations more efficient through nose-to-tail connectivity.

How do we succeed in doing that?

Last year, Thales acquired LiveTV from American airline Jet Blue. They are specialised in equipping airplanes with in-seat screens, connectivity services and live television streaming. This deal gives Thales's IFEC business significant and immediate capabilities in aircraft connectivity. Previously we used Thales's swift broadband setup (L-band satellite). The acquisition filled in that capability with Ka-band technology and helped to complete the service offering with the addition of in-seat displays and the streaming of live television shows. We also leverage our relationship with Inmarsat as a value-added reseller of Inmarsat's Global Xpress (GX) satellite bandwidth – the first of its kind to offer broadband speeds of up to 49Mbps using Ka-band technology. In addition, Thales is also value-added manufacturer of IRIDIUM Certus terminals bringing unprecedented levels of connectivity for operations and safety services from pole to pole.
Integration of LiveTV into Thales InFlyt Experience is going very well. The Thales connectivity offer now has an agnostic communications services and onboard TV solution which rests on two major elements: an experience consistent with best-in-class mobile networks; widest possible bandwidth to deliver the broadest, fastest, available secured data connection. That means a full, comprehensive connectivity system solution with integrated Cabin, Crew and Operations secured services.

Concretely, what does more connectivity mean for the passenger experience?

This expansion of available bandwidth is totally transforming the in-flight experience. In addition to conventional connectivity, allowing passengers to surf the web and access cloud storage, data-heavy services such as IP television streaming are now becoming a reality. Moreover this also means a more personal and relevant travel experience for the passenger and one that starts "before" the flight and continues "after" it through seat choice, use of smartphone or PED, pre-selection of connectivity options, movie playlists, programmes, music, etc., browsing food and drink menu options, browsing and purchasing duty free items proposed throughout the flight, destination activities, theatre tickets and excursions, car hire or taxi reservation, changing hotel reservation or even return flights.
By collecting passenger usage and preference data, it gives the airlines the ability to tailor any offering based on the preferences and previous purchasing behaviour and needs of each individual passenger, to create a unique experience that builds brand loyalty.

How about for airline operations?

Our approach is to embrace the technology that best fits the business model of the airline, having options for intelligent routing. Just a couple of examples: critical system status and performance can be transmitted to operators in real time for monitoring and optimized maintenance services to minimize turnaround time and aircraft downtime as ground crews will receive the maintenance log on touchdown and will be ready to perform the checks and servicing of the aircraft without delay. The unique performances of Thales IRIDIUM Certus terminals will be a key asset to deliver these new operation services.

What about the security and safety of flights?

The onboard network is fully secured for passengers and the crew. All information transactions between avionics and open world are secured by an onboard server, guaranteeing seamless exchange from Electronic Flight Bag applications to avionics systems such as the Flight Management System. Real time updates of weather information (wind, hazardous conditions) are delivered to the crew and to avionics systems to reach unparalleled levels of secure trajectories.

To conclude, why should I choose Thales for connectivity matters?

We deliver unmatched passenger experience just like at home or at the office. We deliver the best secure networks to fit the fleet types with a consistent experience across networks. Slow or sporadic networks are not acceptable anymore! It is agnostic to the connectivity link. Simply connected at any time. We offer "À la carte" choice of the best-suited solutions tailored to customer expectations delivering optimum coverage and capacity at the best cost with overlapping and global coverage. Even Polar regions are no longer a connectivity hole!