Cutting-edge helicopter simulation and training solutions on display in Orlando
Dec 03. 2012
At I/ITSEC*, being held December 3rd to 6th in Orlando, Florida, Thales is showcasing its training and simulation credentials including state-of-the art Helicopter Mission Training solutions and Reality H, the latest Helicopter Full Flight Simulator.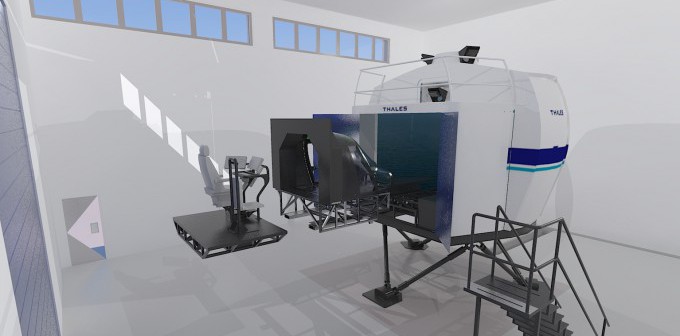 The Thales stand will be presenting the Directed-Fidelity® solution, which delivers customized, targeted training solutions to customers and is based on an end-to-end analysis. Through close work with customers to discover their key requirements, Thales Directed-Fidelity® aims to blend the best mix of live and synthetic training. The objective is to ensure that all individuals are optimally trained.
The Helicopter Mission Training zone will display Thales's range of training devices for high-value mission and tactical training. The outstandingly realistic visual displays and faithful replications of cockpits within the Thales system resemble the exact flight crew environment. This results in a superior training system which can be used from ground school to pre-deployment.
Reality H, Thales's high fidelity Helicopter Full Flight Simulator, will also be on show on the Thales stand this year. This mission-orientated training system is already in service around the world. It provides improved operational efficiency and high quality training supported by a powerful image generation system, full instructor control and high accuracy motion and controls.
Thales will also be displaying its capabilities in Synthetic Environments for Mission Training.
Covering the range from training equipment to turnkey training services, the Thales ethos is to act as a partner, understanding the changes that must be made in order to adapt our training solutions. We aim to provide the finest training services and simulation equipment, to introduce innovative solutions in all our fields of operation and to ensure our customers benefit from the best solutions.
Come and meet us on stand 1000 at i/ITSEC 2012 - Orange County Convention Center, Orlando, Florida from 3rd to 6th December 2012.
*I/ITSEC (Interservice/Industry Training, Simulation and Education Conference) is the world's largest modelling, simulation and training conference : http://www.iitsec.org/Pages/default.aspx
To find more about Thales solutions click here