Dual qualification for Thales's Reality H flight simulator
Oct 25. 2012
The Reality H helicopter simulator installed at the recently-opened training centre of the helicopter operator SAF group in Albertville, France, has been granted FTD (Flight Training Device) Level 3 and FFS (Full Flight Simulator) Level B qualification by the French Civil Aviation Authority (DGAC).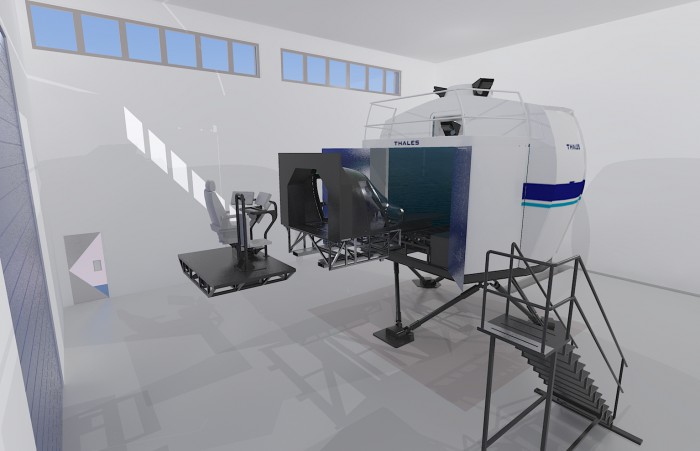 FTD Level 3 and FFS Level B qualification allows this latest-generation system to be used for Eurocopter EC135 helicopter type-rating training. This qualification confirms also its proven capacity for recurrent training to support annual revalidation of pilot licences, annual operator proficiency checks (OPC) and line checks in place of an actual helicopter.
It can also be incorporated as part of an ab-initio training programme leading to a Commercial Pilot's Licence for helicopters (CPL H) or Air Transport Pilot's Licence for helicopters (ATPL H), including Instrument Rating (IR) and corresponding Proficiency Checks (PC).
The Reality H system provides highly realistic simulations of flight conditions in a range of natural and man-made environments including mountainous terrain, coastal and urban areas. This makes it  suitable for training personnel to conduct specific assignments such as SAR (search and rescue) and EMS (emergency medical services), which are the main activities of the SAF Group's EC135 fleet.
The qualification of the Reality H EC135 simulator was achieved thanks to a powerful database built up from a series of real helicopter test flights conducted in partnership with SAF (Secour Aérien Français). Thales uses the data to model the flight mechanics and equipment represented in the simulator.
Thales Reality H full-flight simulators in operation around the world:
·          Dauphin DN3 version at the Heli-Union training centre in France
·          Dauphin DN3 at Eurocopter South East Asia's Singapore training centre
·          EC135 simulator at SAF's training centre in Albertville (France)
Photos credit: copyright Thales