Elevating the inflight entertainment experience with AVANT Up
Jun 25. 2021 AVANT Up is Thales's latest evolution of industry-leading inflight entertainment (IFE) solutions. The system features a new line of displays, power supply solutions, personalisation and airline revenue generation capabilities.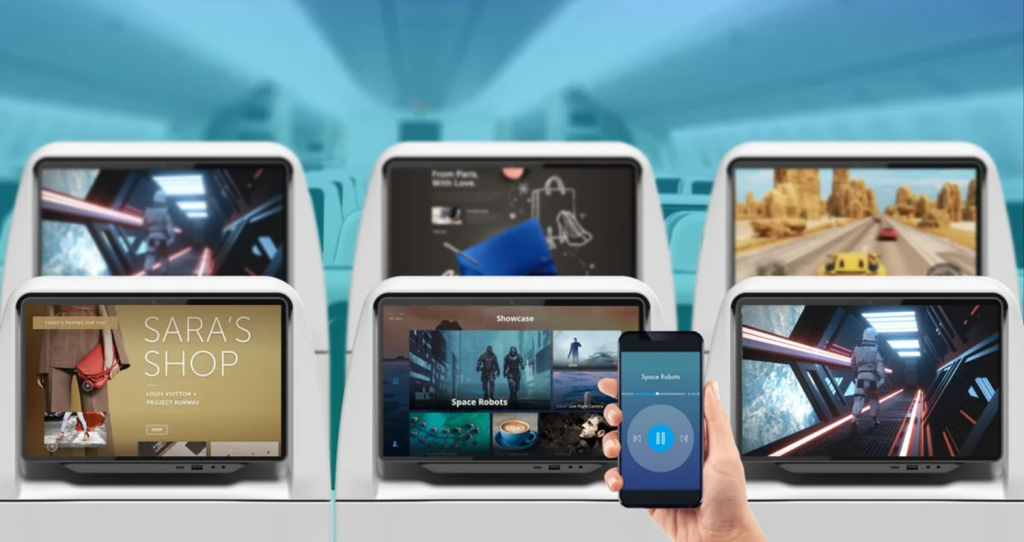 AVANT Up features an all-new line of Thales displays (4K high dynamic range HDR) enhanced with Samsung QLED technology to provide unrivaled picture quality plus a 50% increase in reliability and a 30% decrease in weight. It also uses smart power supply solutions designed with the passenger in mind, allocating power where they need it all while reducing weight and total cost of ownership. The new digital technologies aim to drive operational efficiency and to maximize passenger satisfaction, loyalty and revenue.
Optiq – 4K QLED HDR Displays
Developed in partnership with HARMAN, a Samsung Company, Optiq by Thales is the industry's first line of intelligent 4K high dynamic range (HDR) displays enhanced with Samsung QLED proprietary technology. The new in-seat and cabin displays have a sleek passenger centric design focused on ergonomics and fits seamlessly into the modern cabin environment.
Optiq provides passengers with the best experience in the air, with an unrivaled picture quality featuring more than one billion colors. Two Bluetooth connections and built-in Wi-Fi allows passengers to pair multiple devices simultaneously to the system. Airlines benefit from a significantly reduced total cost of ownership, thanks to a lower acquisition cost, 30% weight reduction, 50% increase in reliability, and improved durability and serviceability.
Pulse – Smart Power Management
Our Pulse power solutions are designed to meet the specific power needs of passengers, now and in the future, as PED devices increasingly migrate to the USB Power Delivery standard. Pulse is a modular system built with smart power management that dynamically allocates power where the passengers need it. Pulse is highly efficient while being compact in size, providing a 30% weight reduction, lower heat dissipation and the ability to install Pulse between the seat beams. With more power, improved seat integration, and reduced acquisition and operational cost, Pulse provides substantial benefits to the passenger and the airline.
Digital Services - Unlocking the True Potential of IFE
AVANT's open platform allows Thales to work with an extensive network of partners to develop and deploy new applications for airlines, offering passengers the latest features and a broad range of interactive entertainment options. Thales' digital product portfolio features e-commerce capabilities with Airfree's shopping platform, a multifaceted approach for delivering personalization, and an industry leading advertising platform.  
The Ready to Fly digital portfolio is designed to help airline customers restore passenger confidence in air travel in a post-pandemic world.Such as Thales' "touchless" solutions, allowing passengers to safely control the inflight entertainment system with their mobile phones for a full IFE experience.
Thales digital technologies provide airlines fresh opportunities to maximize passenger satisfaction, loyalty and revenue.
"Our airline customers and their passengers always expect more from their inflight entertainment systems, and Thales is delivering on these expectations, and more. AVANT Up, Pulse and our Digital solutions demonstrate our unwavering commitment to invest in innovation that creates value for airlines. We're truly excited to provide these solutions to our customers and their passengers as we build a sustainable future we can all trust." Cedric Rhoads, Vice President, Product Policy, Thales InFlyt Experience